The Centers for Disease Control recommend that children get 28 doses of 10 different vaccines before they reach the age of 6 years.  Since all 50 states require certain vaccines before entering public schools, I thought we could help you make an informed decision.
PROPONENTS FOR VACCINES:

Those who support the vaccination of children contend that vaccines have spared us small pox, polio, whooping cough, rubella, diphtheria, stating that reactions and side-effects are rare.
Proponents believe that ingredients, such as thimerosal, formaldehyde, and aluminum, can be harmful in large doses but they are not used in harmful quantities in vaccines.
The FDA requires up to 10 or more years of testing for all vaccines before they are licensed, and then they are monitored by the CDC and the FDA to make sure that the vaccines and the ingredients used in the vaccines are safe. [CDC does mention that there is a rare reaction called anaphylaxis for one in a million children.]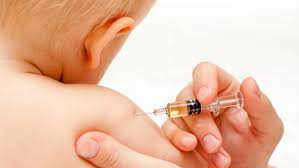 OPPONENTS OF VACCINES:
Those opposing vaccinations have a longer list of complaints, and here are just a few:
Children's immune systems are capable of dealing with infections naturally. They state that these vaccines do have side effects such as seizures, paralysis or death and that they trigger autism and ADHD.
The rotavirus vaccination can cause intussusception, a type of bowel blockage that may require hospitalization, in about one per 20,000 babies in the United States.1 Long-term seizures, coma, lowered consciousness, and permanent brain damage may be associated with the DTaP (diphtheria, tetanus, and pertussis) and MMR vaccines, though the CDC notes the rarity of the reaction makes it difficult to determine causation.
The National Vaccine Information Center (NVIC) says that vaccines may be linked to learning disabilities, asthma, autism, diabetes, chronic inflammation, and other disabilities.2
Here is an example:
A vaccine for Lyme Disease, LYMErix, was licensed by the FDA and marketed for almost four years before being pulled from the market after several class action lawsuits were filed due to a potential causal relationship to autoimmune arthritis.3
[pro_ad_display_adzone id="8825″]

What about the ingredients?
Aluminum4 is used in some vaccines and excess aluminum in the human body can cause neurological harm.  Formaldehyde5, also found in some vaccines, is a carcinogen, and, according to VaxTruth.org, exposure can cause side effects such as cardiac impairment, central nervous system depression, "changes in higher cognitive functions," coma, convulsions and death.
Glutaraldehyde6, a compound used to disinfect medical and dental equipment, is used in some DTaP vaccinations and exposure can cause asthma and other respiratory issues. Some polio, TD, and DTaP vaccines contain 2-phenoxyethanol7, an antibacterial that is a skin and eye irritant that can cause headaches, shock, convulsions, kidney damage, cardiac and kidney failure, and death.
What about Natural Vaccinations?

Even pro-vaccine organizations state that natural vaccination causes better immunity. The Children's Hospital of Philadelphia notes that "It is true that natural infection almost always causes better immunity than vaccines. Whereas immunity from disease often follows a single natural infection, immunity from vaccines occurs only after several doses."
Mayo Clinic8 states that natural infection "often provides more complete immunity than a series of vaccinations." "A vaccine violates all laws of natural immune defenses by taking a potential pathogen along with all the TOXIC ingredients (aluminum, formaldehyde, adjuvants, etc.) directly into your blood system. This process would never occur in building natural immunity."
And if you are worried about your child getting the childhood disease: Most childhood diseases are harmless.9
Chickenpox is often just a rash with blisters and can be treated with acetaminophen, cool compresses, and calamine lotion. 
The measles is normally a rash accompanied by a fever and runny nose and can be treated with rest and fluids. 
Rubella is often just a virus with a rash and low fever and can be treated with acetaminophen.
Rotavirus can normally be treated with hydration and probiotics. 
As stated above, all 50 states require vaccinations for children entering public schools even though no mandatory federal vaccination laws exist. All 50 states issue medical exemptions, 48 states (excluding Mississippi and West Virginia) permit religious exemptions, and 19 states allow an exemption for philosophical reasons.10
Bear in mind that vaccines are very profitable. ONE vaccine10 generated 6.25 Billion in 2015.
The Future of Vaccinations
HR 2232 is the national mandatory vaccination bill in congress: "Vaccinate All Children Act of 2015" or HR 2232. 
This bill was introduced in 2015 at the federal level and would require all children attending public and secondary schools nationwide to be immunized as prescribed by the CDC.
The main difference with this bill to vaccinate vs. the federally existing law?
This BILL has no religious exemptions. As the bill stands now it has gone through several committees and has not made it to the Senate.
There you have it.
Get educated before deciding!
Shaun
References
1 CDC, "Possible Side-Effects from Vaccines," www.cdc.gov, Feb. 4, 2014
2 National Vaccine Information Center, "Autism," www.nvic.org (accessed June 11, 2014)
3 Gregory Poland, "Vaccines against Lyme Disease: What Happened and What Lessons Can We Learn?," www.cid.oxfordjournals.org, Feb. 1, 2011
4 Robert W. Sears, "Vaccine FAQS: Aluminum Information from The Vaccine Book," www.askdrsears.com (accessed June 11, 2014)
5,6, VaxTruth, "Vaccine Ingredients – A Comprehensive Guide," www.vaxtruth.org, Aug. 15, 2011
8 Mayo Clinic, "Childhood Vaccines: Tough Questions, Straight Answers," www.mayoclinic.org, May 8, 2013
9 http://articles.mercola.com/sites/articles/archive/2016/05/10/mumps-vaccine.aspx#_edn1
 10CDC, "School Vaccination Requirements, Exemptions and Web Links," www.cdc.gov, July 21, 2011
11  FT.com April 25, 2016