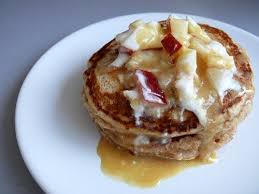 Do you ever find it hard to stick to your nutrition plan in the mornings because you are so limited in your choices and variety for what to have during breakfast?
We have found that making smart, healthy choices for breakfast will get us off to a great start and lead to making wise food decisions the whole day. 
That is why we absolutely love  using this nutrient rich and absolutely satisfying pancake recipe. After one taste you will not believe it is gluten free and packed with protein to keep you energized all day.
Protein Power Pancakes with Cottage Cheese
Makes 10 pancakes
1 cup gluten free oats uncooked (not instant)
3 Organic cage free eggs
1 cup cottage cheese
½ tsp. Cinnamon
¼ cup coconut flour
Sugar free syrup or jelly
½ tsp. vanilla extract
½ tsp. Stevia
Mix in blender; cook over medium heat
Serve with organic apple chunks
Let us know what you think and if you have any toppings you have especially enjoyed. 
Eat well and live life to the full,
Karen
[pro_ad_display_adzone id="8825″]