Your body depends on water to digest your food, expel wastes, regulate your temperature, protect your tissues, cushion your joints and protect your spinal column…among many other vital functions.
While your body can do without food for several weeks, your body cannot do without water for more than a few days. 
Here are some quick points  about water:
-Not drinking water for more than a couple of days can have serious debilitating results.
-Exercising will release water through the skin and lungs.
-The amount lost in urine depends on how much fluid is taken in.
-Solutes such as sodium (from where we get salt) will determine how much is retained.
-Although sweating is a very effective way of preventing body temperature from rising too far, it causes the loss of water and electrolytes (salts) from the body.
Every function in the body is related to water flow. It is through water that hormones flow to the proper organs, that toxins are diluted and that nutrients are transported to all  cells.  The common mistake is to believe that thirst is the signal that allows one to remember to grab a drink of water. The problem with that thinking is that your thirst mechanism gradually fails as you get older. The thirst mechanism in our 70s is not the same one we had in your 20s.
One can be chronically dehydrated and not be thirsty.
WHY YOU MUST DRINK PLENTY OF WATER – 3 Spectacular Health Benefits!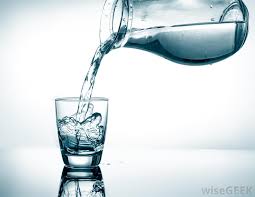 1 – WATER KEEPS YOU HYDRATED
Most folks simply underestimate how effective hydration can be for helping you lose weight, have more energy and burn more fat.
Even mild dehydration can have negative effects on both physical and mental performance and health.
Also, the more water you "give" your body, the LESS it will hold onto.
So if you feel like you're retaining water or bloating all the time, just simply drink MORE water.
Also keep in mind: all metabolic processes that take place in the body operate more efficiently and effectively when you're properly hydrated.
In fact, lack of water intake is probably the MOST neglected nutrition habit STOPPING fat loss.
Losing as little as 2% of your body's water content can significantly impair your physical performance.  Athletes may lose from 6-10% water: this dehydration leads to reduced motivation, altered temperature control AND increased fatigue.
2 – WATER AND YOUTHFUL SKIN
Proper hydration is essential for young-looking skin. If you are addicted to buying expensive creams that cost much and deliver little, ditch them and instead try drinking a minimum of 2 liters of clean water per day. (67 ounces)
Why? Lotions and creams do not deal with the root of the problem. Dehydration is at the core of dry-looking skin not a lack of a "cream". Creams can only do so much. They penetrate only the uppermost layers (epidermis) of the skin but can't reach deeper into the dermis.
Water delivers nutrients to all cells including your largest organ…your skin. (Side note: sugary foods cause inflammation of all cells including your skins cells. This inflammation leads to aging and wrinkles.
[pro_ad_display_adzone id="8825″]
3 – WATER HELPS TO LOSE BELLY FAT

Study 1
In a study from the Journal on Clinical Endocrinological Metabolism from 2003,1 showed some impressive results on 14 healthy normal weight subjects. They drank 500 mls (17 oz.) of water then researchers tested to see how adipose tissue was oxidized (burned up as fat).
Results: Drinking 500 mls of water increased the metabolism by 30% which occurred 10 minutes after drinking and lasted for a total of 40 minutes.
The thermogenic effect was that about 40% of the calorie expenditure came from warming the water from 22° C to 37° C (or 98.6° F body temperature)
Study 2
Another side benefit of drinking water to lose fat comes from a 2008 study. Drinking water 30 minutes before a meal reduces how much you eat during that meal.
In the 2008 study, overweight individuals who were given 500 mls of water before breakfast showed that those individuals (average age = 60 years old) given the water prior to the meal ate 13% less calories than those individuals not given water.2
When the same study was replicated in younger adults the results were not the same.3
Study 3
Another study replicated the test and this time it was over a period of 12 weeks with middle to older aged adults who were overweight (BMI = 25 to 40) those who drank water 30 minutes before their meal saw a 44% greater decline in weight over 12 weeks than those who were not given water before their meals.4
Drinking more water increases the calories you burn (this is known as Resting Energy Expenditure).5
If you can only make one change in your habits to improve your health, this would be it: DRINK MORE WATER.
Shaun
1. (J Clin Endocrinol Metab. 2003 Dec;88(12):6015-9.Water-induced thermogenesis.
2. http://www.ncbi.nlm.nih.gov/pubmed/18589036
3. http://www.ncbi.nlm.nih.gov/pubmed/17228036
4. http://www.ncbi.nlm.nih.gov/pubmed/19661958
5. Obesity (Silver Spring). 2010 Feb;18(2):300-7. doi: 10.1038/oby.2009.235. Epub 2009 Aug 6
Water consumption increases weight loss during a hypocaloric diet intervention in middle-aged
and older adults