Buy Whey Protein Powder ONLY after you have read this article first:
Why all whey protein powders are NOT created equal.
Pardon our strong language, but we've got something to get off of our chest about the supplement industry.
MOST supplements are pure junk. First of all, supplements are NOT the answer to a real fat burning lifestyle. Unfortunately, this also makes us "good guys" look bad.
Today we have some VERY important facts about Whey Protein Powders. But, before we talk about why your Whey Protein could be toxic, let's set the record straight.
NOTHING is better than REAL food.
If you have time to cook all your food ahead of time and you have access to a consistent supply of lean and healthy proteins, carbs, fruits, oils and veggies, then you probably do NOT need that much supplementation.
However, supplements can be your friend when you don't have time for real food or when you need convenience in today's busy world.
The majority of the supplements that we recommend are really just replacing food. While there is up front cost, you are actually saving a lot of money over the course of your journey by dramatically decreasing your grocery expenses.
PLUS, it's not nearly as expensive as going through a drive-through fast food joint or eating out. On top of all this, if your supplements actually come from a high quality source, they'll actually have more vitamins and nutrients than most convenient foods.
But you have to know the source of the manufacturing so you're not being misled and ripped off.
Quality supplements ultimately are a tool to be used as a "supplement" to your normal healthy eating.
So they really do serve a few important purposes. Do not buy whey protein powder until we cover a few of them really quickly:
They can help fill in the missing gap of vitamins, minerals, and nutrients that you may be deficient in because of today's poor food quality. (i.e. Research shows 1 cup of spinach from 1953 had 17 times more vitamins and minerals than 1 cup of spinach from today's grocery stores.)
Vitamins and Healthy Oils are great supplements to use when you're not getting the fruits, vegetables, and healthy oils in your plan on a consistent basis.
Things like whey protein powder can be a great way to help you replace a meal when you're on the go or in a hurry.
They can help you cut down on hidden calories from regular convenience or restaurant foods AND save you a lot of money over the long haul.
They are really a MUCH better choice than all the so-called healthy diet foods on the market. These foods contain nasty chemicals and fillers that actually turn off your body's fat burning triggers.
Hopefully this gives you a realistic viewpoint on long-term quality supplementation and the small (but important) role it can play in your fat loss plan. Again, the key word is "quality".
Do you really know what's in YOUR whey protein powder?
Even though big companies will entice you with fitness models and celebrities in their marketing and advertising, how do you know you can trust the source?
Make sure your supplements come from a trusted advisor and make sure they have a "GMP" label on their bottle. This will also give you the comfort of knowing they have "Good Manufacturing Practices".
This will ensure that what's on the label is actually IN the bottle.
Next, get educated before (you buy whey protein powder) on what's in the bottle that you may not even know about.
For example, we've talked over and over again about the dangers of heavy metals and toxins in our environment, but who would have EVER thought these dangerous chemicals could be right inside whey protein powders?
A recent investigation, including tests at an outside laboratory of 15 protein drinks, a review of government documents, and interviews with health and fitness experts and consumers, found that some whey protein drinks can pose the risk to exposure to potentially harmful heavy metals, if consumed frequently.
All drinks in this test had at least one sample containing one or more of the following contaminants: arsenic, cadmium, lead, and mercury. These metals can have toxic effects on several organs in the body. That's why it is so important to buy whey protein only after reading this article.
IMPORTANT NOTE: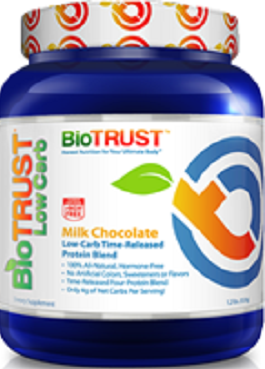 Do not buy whey Protein powder until you read about Biotrust Low Carb.
The founders of Biotrust Nutrition, Josh and Joel, had a goal to have products stand head and shoulders above the rest… and that's exactly what they did when formulating their premium protein blend, BioTrust Low Carb.
Most protein powders have the following problems:
Protein products are loaded with artificial sweeteners, flavors, and colors
Proteins are sourced from cows treated with potentially dangerous hormones
Protein powder products are too high in sugar and/or processed carbohydrates
Protein powder producers use cheap, denatured proteins (from high-heat processing)
Many devious supplement companies find the loopholes in label regulations and fool you by hiding what's really in their products
Many protein powders have sub-par absorption
The folks at Biotrust are much more concerned about delivering only the highest-quality product to you as a consumer than they are about profiting from "cheap" production methods that don't serve you and your best interest. Why buy whey protein powder from Biotrust…?
It is 100% All-Natural. That means you won't find any artificial colors, flavors, and most importantly artificial sweeteners in our protein… ever.
The protein blend is sweetened naturally with stevia extract and a naturally sweet form of fiber call inulin.
It packs 4 grams of high quality fiber per serving and only 1 gram of sugar per 24 grams of protein!
BioTrust Low Carb is also sourced from cows not treated with the dangerous growth hormone rBGH, and rBST.  If the label doesn't say rBGH- and rBST-free, don't buy whey protein powder from that manufacturer.!
Moreover, they went to great lengths to ensure the delicate proteins are carefully processed at low temperatures, preserving their bioavailability and natural state, unlike the vast majority of protein products out there loaded with "cheap," denatured proteins that result from cheaper, high-heat processing.
Then there's the label issue. There are many ways that supplement companies try to fool consumers through the use of tricky, and unethical, labeling practices, including outright LYING on the label about the ingredients and the amounts of each ingredient in their products.
While they still include whey protein concentrate at a 25% ratio due to a number of its unique properties, they also include the more expensive, exotic proteins in their blend like slow-digesting Micellar Casein (the Rolls Royce of all proteins), Whey Protein Isolate, and Milk Protein Concentrate at the same 25% ratio, to give you exactly what they are telling you they are giving you.
Click here: Biotrust Low Carb Protein Powder- Buy 2, get 1 Free AND receive a free copy of the 53 Fat Burning Smoothies Recipe Book

When You buy whey protein powder from Biotrust You GET: (for FREE):