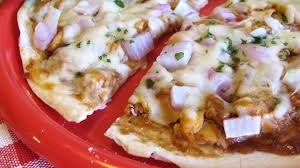 BBQ Chicken Pizza Recipe
Ingredients:
Serves 1
1 cup rice flour tortilla
2 Tbsp. tomato paste mixed with 1 tsp. hot sauce
1 portion cooked chicken (about 4 oz) cubed
1/4 small red onion thinly sliced
2 tsp. fresh rosemary (chopped)
1/4 cup reduced fat mozzarella cheese shredded
[pro_ad_display_adzone id="8825″]
Directions:
Preheat oven to 350 degrees
Place tortilla on baking sheet and spoon tomato hot sauce evenly over tortilla
Top with chicken onions rosemary and cheese
Bake for 10 mins. or until the cheese is melted
Enjoy!
Karen