Spices are often ignored as potent anti-oxidants. They should not be excluded from a healthy diet.  Most herbs and spices are not used in cooking because of a lack of knowledge about these powerful nutrients.
Many of us know that turmeric has anti-inflammatory properties, but did you know that cumin fights dementia?
Did you know that basil improves your skin and that coriander helps fight depression? 
And one of my favorites, cloves, relieves tooth pain.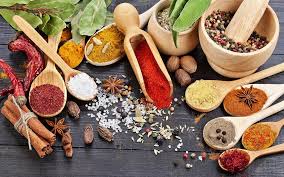 Oregano is probably the best spice around. It has 42 times the anti-oxidant power of apples and 4x more than blueberries.
What about peppermint? It soothes the digestive tract and may even help in Irritable Bowel Syndrome (IBS)… It may also protect against cancer and relieve allergies.
Here are a few more noteworthy spices:
cumin and sage fight dementia
cayenne and cinnamon fight obesity
coriander and cinnamon regulate sugar in the blood
lemon grass, nutmeg, bay leaves calms you down
oregano has anti-fungus properties and, lots of vitamin K and more anti-oxidants than spinach
garlic, and chicory strengthen the heart
basil and thyme improve the skin
turmeric, basil, cinnamon, thyme, saffron, and ginger build your immunity
coriander, rosemary, cayenne, allspice and black pepper fight depression
black pepper helps absorb other nutrients
cloves relieves muscle pains from injuries, removes intestinal and improves mental focus
cinnamon lowers blood sugar, helps in menstruation, relieves congestion as well as anti-inflammatory
turmeric fights cancer and is anti-inflammatory
rosemary removes harmful hetero cyclic amines from meat by marinating steak in rosemary

[pro_ad_display_adzone id="8825″]
Here are some quick recipes for the following spices:
Rosemary:
Combine 2 tbs of olive oil, half cup of lemon juice and half of a garlic clove (minced) and 1 tbs of rosemary.
Mix all ingredients and rub on meat. Cook as usual.
Oregano
Make salad dressing by heating one tablespoon of olive oil, a pinch of red pepper flakes, and one-half teaspoon of oregano in a small pan over medium-low heat for 2 minutes. Drizzle over spinach with a splash of red wine vinegar.
Cinnamon
This spice goes great with lentils.  One cup of dried green lentils in two cups of vegetable stock with a cinnamon stick (which is removed before serving) for a hearty side dish.
It's the Spice of Life!
Shaun