If you don't know how to eat cheat meals correctly you can easily sabotage all your hard work at the gym and healthy eating efforts during the rest of the week.
You don't want to go 3 steps forward and then 4 steps backwards, right?  That would NOT be cool! 🙂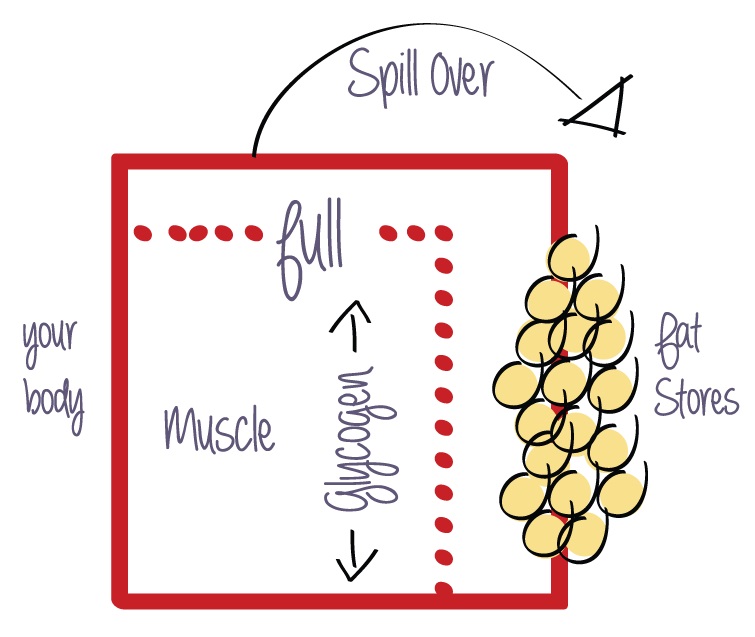 So here's your 5 powerful cheat day tricks to enjoy yourself, but not destroy all your hard work:
1. Eat clean* 5-6 days of the week (less than 100 grams of carbs per day). This will allow glycogen to go way down and consequently drop leptin levels (your fat-burning hormones). Glycogen is a form of your body's energy that is stored in your muscle and liver.
2. Make sure to deplete Muscle and Liver glycogen so they are empty.  (See box on right).
Full body weight training exercise will deplete this glycogen from your muscles and liver as well as eating less than 100 grams of carbs per day.  Make sure your glycogen is depleted from the "storage tank." If it is, then when you eat cheat food one or two days of the week it will never get stored as fat but as energy for your body to use in the near future.
3. Avoid Alcohol when possible because this can negate a lot of the positive benefits of a scheduled cheat day. A Cheat Day will increase Leptin, one of your main fat-burning hormones. This process can be stopped if too much alcohol is consumed.  I know most people enjoy alcohol on their cheat days (including me :), but this is still good information to know.
[pro_ad_display_adzone id="8825″]
4. Use the right foods. Example: Avoid High Fructose Corn Syrup when possible.  The "fake" foods and preservatives all negatively affect the Leptin signaling process mentioned in trick #3.
5. Use Proper Exercise strategy; In other words, if your muscles and liver are FULL of Glycogen (by eating more than 100 grams of carbs per day), cheat foods will cause FAT SPILLOVER and will directly turn into fat on your body. BUT, if your tank is empty on the day when you DO eat cheat food it will not allow fat to spill over onto your body.  Sweeeeeet. 🙂
So your body will reset fat-burning hormones (Leptin, Growth hormones, etc…), stave off cravings, spark your metabolism and you won't gain back the fat you lost from your previous week's hard work.
Enjoy cheat day!
Shaun
*clean eating is the terminology for eating unprocessed healthy foods