Raw nuts are are a great snack.  A small handful of nuts between meals help you suppress your appetite plus they contain Omega 3s as well as Omega 6s.
They are also a great source of vitamins, antioxidants and fiber.  
All nuts have approximately 160 calories per ounce. More than likely if you're struggling to lose weight, totally omitting nuts from your diet is a mistake.
Nuts have been proven to lower systolic blood pressure, improve cardio health,reduce mortality.
In fact, major studies have proven that people who eat just 1 ounce of nuts daily are 20% less likely to die for any reason compared to people who avoid them1.
One of the biggest misconceptions about eating nuts and seeds is that they count as protein. While nuts and seeds contain protein they
are technically considered a fat.
Lets take a look at the breakdown of nuts and seeds from a macro nutrient perspective:
Flax seeds – 22% carbs, 12% protein, 66% fat
Pumpkin seeds – 13% carbs, 16% protein, 71% fat
Sesame seeds – 17% carbs, 11% protein, 72% fat
Sunflower seeds – 17% carbs, 11.5% protein, 71.5% fat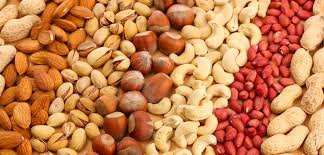 Almonds – 15% carbs, 13% protein, 72% fat
Cashews – 22% carbs, 11.5% protein, 66.5% fat
Peanut Butter – 13% carbs, 17% protein, 70% fat
Walnuts – 8.5% carbs, 8% protein, 83.5% fat
Pecans – 8% carbs, 5% protein, 87% fat
As you can see, nuts and seeds are an amazing source of fat not protein..
Now, here is some information that you probably have not thought about:
Did you know that broccoli has more protein than nuts?  Broccoli?
Broccoli – 71% carbs, 20% protein, 9% fat
Let's compare this to:
Almonds – 15% carbs, 13% protein, 72% fat
[pro_ad_display_adzone id="8825″]
The take-home message here is not to avoid nuts, just use wisdom.  They are not protein! They are great fat sources.
For example, walnuts are mostly Omega 3's which means anti-inflammatory and great for your brain health.  Walnuts (14 halves contain 185 calories, 18 grams fat, 4 grams protein) have high amounts of alpha linoleic acid (ALA). Research says that ALA may help heart arrhythmia.
Brazil nuts are loaded with selenium a mineral that protects against prostate cancer. Almonds are great for over-all health benefits. They are the lowest in calories, highest in protein and vitamin E of all other nuts.
Whichever nut you decide to munch on, make sure they are not roasted though; just eat them raw.
Happy snacking!
Shaun "Go Nuts" Hadsall
1 Journal of the American College of Nutrition 2011 Dec;30(6):502-10.