Best known as the spice that gives curry its distinctive yellow color, turmeric is a spice used throughout India for thousands of years both for its flavor in dishes as well as its medicinal properties.
And in recent years turmeric has gained attention throughout the rest of the world as well for its powerful anti-inflammatory and antioxidant benefits1.
Turmeric has also been shown to BOOST brain power2 and lower the risk of brain diseases3.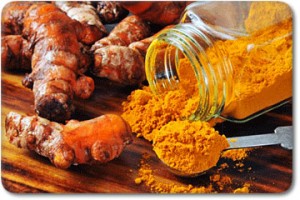 It can even reduce the growth of new blood vessels in tumors, slow down the spreading of cancer, and possibly even kill cancerous cells4.
One published research paper even showed turmeric is more effective than an anti-inflammatory drug5.
Inflammation leads to poor recovery after exercise, which can lead to muscle and joint pain, high risk of injury, feelings of exhaustion and signs of physical aging.
When turmeric is used before exercise, it enhances muscle repair after exertion, thus leading to faster restoration of your muscle tissue.
Its potential for reversing disease as well as key signs of aging make turmeric a popular medicinal herb recommendation by anti-aging experts.[pro_ad_display_adzone id="8825″]
However, not all versions of this spice are created equal because they typically come in a powder form, which has a fairly low bioavailability (meaning that a good portion of it is not properly absorbed by your body).
Nutritionists recommend consuming turmeric with black pepper, which contains a natural substance called piperine that significantly aids in the absorption of curcumin, one of the key curcuminoid compounds in turmeric.
Still, in many cases the turmeric sold in retail stores is not very fresh, and it's sometimes made with harsh processes that can destroy or degrade its healthful components.
What this boils down to is if you want to reap the full benefits that turmeric can offer, always be sure to ensure the quality of your turmeric.
There is also a new full-spectrum extract of tumeric that is "liposomalized," meaning the turmeric is specifically blended to make it bind to phospholipids (fats) that increase bioavailability of turmeric 10 to 20 times.
So if you're looking to maximize absorption of turmeric for the best possible results:
Click HERE to learn more about this brand new bio-available source of turmeric!
Stay fit, and always keep learning new things.
Your friend and coach,
Shaun
References: