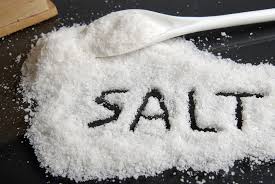 I love salt!
For years our government has told us to cut back on sodium to reduce blood pressure.  May I remind you that this is also the same government that told us to cut out saturated fats and eat a diet with 50-60% of the calories as carbohydrates. Hmmm?
One of the biggest myths in the medical community is that salt causes hypertension. The big fear of salt started in 1997 after the DASH-sodium study mistakenly concluded that reduction of salt reduces risks of hypertension.
The problem is…
People on the DASH diet also reduced their sugar (fructose) intake, which is the real culprit for a ton of diseases, including hypertension.
In reality, salt does NOT cause hypertension.
In fact, the most up-to-date research shows that the standard recommendation of the American Heart Association of 1.5g/day is too LOW and might even DOUBLE your risks of stroke.
What an a-salt on our health!  (sorry could not help it)  🙂
First of all, what IS salt anyway?
Sodium is a vital electrolyte (charged particles that are involved in the electrical balance in the body).
Sodium binds water, which keeps intra-cellular and extra-cellular fluids in the right balance. This electrolyte is extremely important for nerve transmission, muscular contraction, and other functions.
[pro_ad_display_adzone id="8825″]
So…What happens when you cut back on salt like your doctor tells you?
Insulin resistance1: In this study, subjects on a low sodium diet increased insulin resistance, in just 7 days, a leading cause of obesity, diabetes and metabolic syndrome
Type II Diabetes2: A study found that in patients with type II diabetes, less sodium intake was associated with an increased risk of death
Hyponatremia3: Athletes with a low sodium intake can get hyponatremia, this is related to a sodium deficiency and can be very dangerous
However, not all salts are created equal — far from it.

Always try to avoid over-the-table refined salt (table salt), and use unrefined Himalayan Pink Salt, Celtic or sea salt instead.
Refined salt contains 97.5% sodium, with the rest being added chemicals like ferrocyanide, fluoride and aluminosilicate – all of which you do NOT want in your food.
On the other hand, pure unrefined salt contains 84% sodium, the rest being 16% of essential trace minerals and other micronutrients.
The protocol is simple: Avoid processed foods (way too much sodium) eat real food then add the unprocessed healthy salt to taste. Enjoy your food. That's it.
Simple. Not necessarily easy. But definitely simple.
Keep going strong.
Your friend and coach,
Shaun
References:
1 Low-salt diet increases insulin resistance in healthy subjects,Garg, Rajesh et al.,Metabolism – Clinical and Experimental , Volume 60 , Issue 7 , 965 – 968
2 Elif I. Ekinci,Dietary Salt Intake and Mortality in Patients With Type 2 Diabetes, American Diabetes Association, Diabetes Care 2011 Mar; 34(3): 703-709. http://dx.doi.org/10.2337/dc10-1723
3 Exercise-Associated Hyponatremia, Mitchell Rosner , CJASN, January,2007, Vol 2, no.1,151-161 doi: 10.2215/CJN.02730806