Smoothies may be the number one way to make sure you get the healthy vegetables, fruits, superfoods and protein your body needs into your diet on a regular basis.
This is true for men and women alike, but there's no need to stop there.
Kids can be notoriously picky eaters, and ensuring they get the nutrition their bodies need to grow strong and healthy can be a daily battle that tests even the most patient of parents.
Thankfully, smoothies offer the perfect compromise – great-tasting "dessert-like" snacks or meals that you can ensure contain all the nutrition your children need (and then some!).
Note, though, that we're not talking about one of those smoothie stores that all too often cram a ton of liquid sugar into a blended drink with some combination of vegetable powder, frozen fruit sorbet or similar.
Instead, save some money and skip out on all the unhealthy sugar and processed ingredients by creating and blending your own smoothies for you and your kids.
The nutritional benefits that you can get from smoothies are virtually endless.[pro_ad_display_adzone id="8825″]
Here are five of the key nutritional groups of foods that your kids may not be getting in their other meals and snacks, as well as some of the many options you can pick and choose from for your smoothies:
Fresh fruits: Pick from blueberries, strawberries, bananas, peaches, grapes, oranges and more
Fresh vegetables: Pick from spinach, kale, chard, watercress, beets (also adds a beautiful red color to the smoothie), broccoli, cauliflower, avocados, tomatoes and more
Superfoods: Select from Chia seeds, Açai berries or powder, Maca Powder, cacao powder, Goji berries, etc.
Protein: There are a lot of great protein power options, but our favorite for their flavor and high-quality protein are the BioTrust Low Carb Protein Powders
Healthy Fats: Pick from avocados, nut butters (peanut butter, cashew butter, almond butter, etc.), coconut oil and more
The combination options you can use are endless — from all-fruit blends to milkshake-like "dessert" smoothies to pure green smoothies with vegetables that your kids will still love,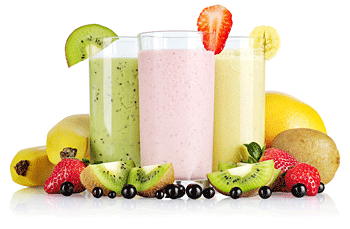 and they probably won't even know the delicious drinks have vegetables in them!
Kids' Favorite Smoothie
This drink will be your kids' favorite – and healthiest – meal of the day.
The recipe is as follows:
1/3 to 1/2 avocado, which contains extremely healthy fat and also helps give the smoothie a creamy consistency
1/2 banana, which are rich in potassium and high in fiber
A handful of blueberries, which are packed full of antioxidants and are also high in fiber
1 tablespoon of Beet crystals, which contain high levels of antioxidant and anti-inflammatory agents
1 tablespoon of Chia seeds, which are rich in Omega-3 fatty acids and can help reduce food cravings as well as keep you well hydrated
A handful of kale, spinach, chard or a combination of the three
Water, milk, kefir, unsweetened vanilla yogurt or Greek yogurt, depending on taste preference
3-5 ice cubes
1 to 2 scoops of BioTrust Low Carb Protein Powder (vanilla, chocolate, or a new strawberry-banana flavor, depending on your child's taste or your own)
I'll frequently combine most of the contents the night before, which gives the Chia seeds time to form a gel-like consistency that makes them easier to digest and absorb, and it also helps reduce morning prep time, which is definitely of the essence in the morning rush to get to school and work.
This smoothie is packed full of nutrition, including fruits, vegetables, superfoods, healthy fats and protein. Even better, it also tastes great, and the fruits and BioTrust Low Carb Protein Powder give it a sweet taste without any extra sugar needed.
In short, smoothies offer the potential to be your child's healthiest and favorite meal of the day, as well as one of the easiest for you to make.
So break out the blender and start experimenting with smoothies. And make sure to let us know in our comments section which smoothie recipes you and your children like best.
Karen