Hopefully, you've moved past the anti-carb craze and come to realize that, like most other things in life, carbs come in shades of gray — some are definitely better than others.
Just like there are healthy fats (think coconut oil, avocados, some nut butters, etc.) and some really unhealthy fats (trans fat, for example),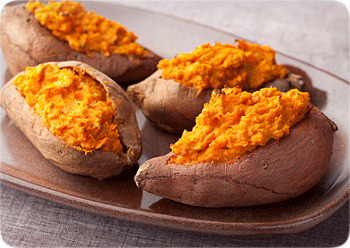 there are some great healthy carb options as well as some carbohydrate sources to avoid at all costs (think heavily processed and/or refined sugar-laden carb sources).
One of the best, if not the best, carbohydrate options out there is the sweet potato.
Rich in a variety of nutrients and fiber, sweet potatoes have a sweet taste on their own (no need to add sugar to them — they're great as is). They also contain slightly lower carbohydrate content than regular potatoes (23 grams to 26 grams in a regular medium-sized potato).[pro_ad_display_adzone id="8825″]
Here are five of the biggest reasons sweet potatoes should make a regular appearance on your lunch or dinner plate:
Rich in vitamins and nutrients. Sweet potatoes contain high levels of vitamin A as well as potassium, vitamin C, vitamin B6, riboflavin, beta-carotene, thiamine, copper, pantothenic acid and folic acid. Sweet potatoes are also a good source of protein, calcium and vitamin E.

While bananas are well known for their potassium content, a regular-sized sweet potato offers 28% more potassium content than a banana.

A great, healthy carbohydrate source. Healthy carbs like those in sweet potatoes provide essential energy needed for workouts and optimally recovering from workouts.

If you're a runner, weight-lifter, or perform similar calorie-burning exercises, sweet potatoes can help provide the energy needed to perform at your best and also assist your muscles in recovering more quickly.

High in fiber: In addition to containing slightly lower carbohydrate content than regular potatoes, sweet potatoes contain nearly twice as much fiber as other types of potatoes.

The fiber content helps the caloric energy provided by sweet potatoes to be used more efficiently than a lower-fiber carbohydrate source.

You can even eat the skin of sweet potatoes (although you'll likely want to go organic and wash the sweet potato before cooking if you plan on eating the skin), which is very high in fiber.

Tastes great! Let's face it, not all healthy options and vegetables taste great, but fortunately the sweet potato doesn't fall into that category.

Sweet potatoes have a mildly sweet taste that goes well with most anything else on your plate.

Ranked as the #1 vegetable in terms of overall nutrition. The Center for Science in the Public Interest (CSPI) ranks the sweet potato number one vegetable with a score of 184, more than 100 points higher than the next highest vegetable.

The sweet potato gets its high score for its healthy combination of dietary fiber, naturally occurring sugars and complex carbohydrates, protein, vitamins A and C, iron and calcium, as well as its relative lack of unhealthy fat content, refined sugar content, sodium and cholesterol.
So the next time you think going low-carb means needing to skip out on sweet potatoes, think again. Healthy carb sources like the sweet potato provide an arsenal of nutrients while packing a punch when it comes to providing energy for your workouts as well as daily activities in general.