While aging is a natural and unavoidable process our bodies go through as each year passes, that certainly doesn't mean we have to look or feel our age as we get older.
A wide variety of factors, from genetics to environmental conditions to diet to exercise (or lack thereof), impact how fast our bodies appear to age and how we feel as we get older.
While we can't always do much to change the genetic part of the anti-aging equation, fortunately there's much we can do to stack the odds in our favor in the other areas.
Here are five of the best natural ways to continue looking and feeling younger as the years pass.
1. Consistently Exercise
A sedentary lifestyle is one of the quickest ways to age your body, which makes regular exercise your number one anti-aging tool.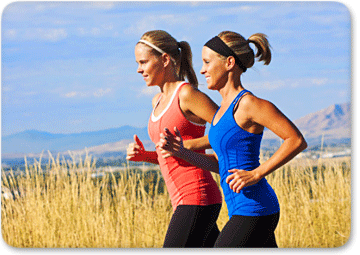 Exercise and weight training offer a wealth of health benefits that can help reduce the likelihood of developing age-related diseases and conditions such as loss of muscle mass, heart disease, reduced mental functioning and more.
Studies also confirm that exercise reduces inflammation in the body, and recent research has even shown that regular exercise has an anti-aging effect at the cellular level.
A study published in the American Heart Association's journal Circulation found that consistent exercise or physical activity helps reduce inflammation in the body that can advance various signs of aging.
And a study at Saarland University in Homburg, Germany, revealed that exercise can help prevent the shortening of telomeres, which are the DNA that bookends chromosomes and protects the ends from damage.
Researchers found that consistent and long-term exercise reduces telomere shortening in human white blood cells, helping your cells — and you as a result — live longer and healthier.
A word of caution, though: Don't overdo it when it comes to exercise intensity, as inflammation and the hormone cortisol can spike instead of decrease when you dial up the intensity beyond 70 percent of your max effort for the majority of your workout.[pro_ad_display_adzone id="8825″]
2. Eat Healthier
This one comes down to simply and consistently eating more of the healthy foods that have been shown to counter the effects of aging versus consuming foods that promote aging.
Perhaps the most important food to consume regularly if you want to slow the aging process is turmeric, which contains antioxidant-rich curcumin and anti-inflammatory properties that studies have shown can help in preventing telomere shortening and may actually promote the elongation of telomeres.
Also on the anti-aging side of the nutritional ledger are: antioxidant-rich berries like blueberries, green leafy vegetables like kale and spinach, wild-caught fish (as opposed to farm-raised) — especially Alaskan Salmon, nuts in moderation (rich in anti-aging fats, vitamins and minerals, as well as being an appetite suppressant), water (stay hydrated!) and drinks like green teas that contain antioxidants called polyphenols that protect your cells from free-radical damage.
When it comes to foods you should avoid if you want to feel healthier and look younger, refined sugars top the list due to promoting a process known as glycation that damages cells and can cause wrinkles.
Refined sugars are also the single biggest reason for the extreme rise in obesity and diabetes in recent years.
Other foods to avoid or limit include trans fats, excessive alcohol, grains, dairy, and artificial or chemical ingredients, including the various artificial sugars on the market.
3. Reduce Stress
Want a quick and easy way to look and feel older than you are? Simply add in stress to your daily life!
One of the biggest accelerators of aging is stress, so the more you can reduce stress in your life, the better you'll look and feel.
Whether it's meditation, yoga, swimming, walking on a nice sunny day, swinging in a hammock, or anything else that calms and centers you, make sure to fit in de-stress and decompression activities to your daily routine.
Ideally, try to get in at least an hour of relaxation time in your day to prevent and counter the effects of chronic stress, which has been linked to heightened inflammation, lowered immune system function, and spikes in cortisol, a key hormone associated with stress and premature aging.
4. Sleep More!
While it doesn't necessarily have to be an even eight hours of sleep as is often recommended, the more high quality sleep you can get, the better you'll feel each morning and throughout the day.
A lack of quality sleep, especially for a long period of time, leads to a significant decrease in energy, puffy eyes and other facial features that make you look older than your true age, as well as an increase in the potential for health issues and complications.
It can also lead to an imbalance or spikes in hormones like human growth hormone and cortisol, which can significantly accelerate signs of aging.
5. Socialize and Connect with Others
Socializing and connecting with others isn't often thought of as an anti-aging tool, but surrounding yourself with positive people and helping others has a powerful effect on keeping you looking and feeling young.
This is especially true as you get older. A recent research study from Harvard University found that regular socializing for seniors has as much benefit as consistently exercising.
In short, surrounding yourself with people who are likely to create positive experiences in your life rather than negative people who suck the life out of you will help improve your mental and physical health, while also stalling the signs of aging.
So while there's no escaping the aging process, that doesn't mean we have to show or feel our age or older. Make sure to follow these five anti-aging recommendations and enjoy feeling and looking younger and more energized than ever before!
Shaun "Stay Young" Hadsall