Don't Spike Insulin with These 2 "Healthy" Foods:
As I mentioned in yesterday's short article, you'll typically want to avoid impact carbs late in the evening hours as they can drastically elevate and spike insulin (the storage hormone).
Not only is it pretty much impossible to burn fat in the presence of high insulin, it can stop your body from releasing one of your body's most powerful fat-burning, anti-aging hormones: Growth Hormone.
However, research now shows that carbs aren't the only food that spike insulin higher.
Believe it or not, some healthy protein sources can actually spike insulin higher than white bread or pasta.
Oh brother. Here we go again…another new nutrition hack. 🙂
The 2 big insulin offenders are:
1. Red meat
2. Fish
In a study performed by Australian researchers and published in the American Journal of Clinical Nutrition, researchers discovered that these 2 protein sources (and several others) spike insulin levels to a degree similar to — or even GREATER than — bread or pasta.
Instead, you'll want to choose protein sources that score low on the insulin index, like Cottage Cheese.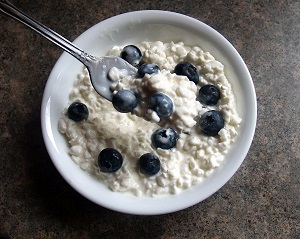 This protein source works great for a few reasons.
1: It has high amounts of both whey and casein protein, which is a slow and a fast releasing protein. Think about the old nursery rhyme, "Curds and Whey."
So because cottage cheese is curdled, it will release amino acids
from the casein based protein for up to 7 hours into the night.
 
2: It's also very high in the amino acid glutamine, which is the most abundant amino acid inside muscle tissue. Glutamine has been shown to be very anti-catabolic so it can help with recovery and prevent muscle breakdown while you sleep.
But over the years, I've found there are MANY folks out there who don't like cottage cheese.
It's usually a, "I love it." or "I hate it."  — type of food.
Plus, most people choose the wrong brands and you should really only be having a few servings of dairy per day – max if your goal is to flatten your belly.
If you'd like to discover exactly what type of cottage cheese you SHOULD be eating along with several other great late-night food choices to help you burn more fat, just grab Joel Marion's brand new free report, The 4 BEST Foods to Eat Before Bed.
There's some SERIOUS research that went into this report; 53 studies to be exact.
That's because Joel is a science NUT.
He would literally text me and call me at 3 or 4am while he was creating this new download. I swear the dude NEVER sleeps…lol.
You can download your free copy in a few seconds at the page below. It has a TON of cool late night eating tips that I highly recommend implementing ASAP:
==> The 4 BEST foods to eat before bed (100% free, no strings) and not spike insulin higher
And make sure you try to eat your servings of red meat and fish earlier in the day or within 1 to 2 hours after a high intensity exercise session.
Keep going strong.
Your friend,
Shaun
Please share or "like" us!