There is no doubt that adequate and consistent protein intake on a daily basis will help you burn more fat over the long haul.
Even if you don't exercise — consistent, clean protein intake can help you "naturally" increase your metabolic rate.
This is often referred to as the "thermic" effect of protein, which means your body burns MORE calories digesting protein than it does when it digests carbohydrates or fats.
So by consuming protein every 3 to 4 hours during your "fed" state, several positive metabolic effects take place.
First, you supply your muscles with a steady stream of amino acids to prevent muscle loss and promote muscle gains.
Second, protein provides your body with the extra, high quality calories it needs to keep your metabolism functioning properly whenever you're dieting….
Or trying to burn off stomach fat by putting yourself into a calorie deficit.
Third, you INCREASE your metabolic rate through the "thermic"effect of protein intake every 3 to 4 hours during your feeding cycle, which can help fight against metabolic slowdown.
But remember, more is not necessarily better.
Your body is smart and it will adapt very quickly if you're not careful.
That's why I recommend you use these two protein tricks to AVOID dietary and exercise sticking points and maximize the effect of protein…
…Without worrying about any dangers that may be associated with higher protein intake.
1. Cycle Your Proteins
Rotate different types of protein in-and-out of your diet on a weekly basis.
For example, one week use nothing but farm fresh (or cage free) whole eggs, turkey, and cottage cheese. The next week switch to grass-fed beef, chicken, and non-flavored Greek yogurt.
The week after that you could rotate in pasture-raised organic pork and wild-caught fish. Hopefully you get the idea here.
Yesterday, Karen and I hit the grocery store and grabbed organic turkey sausage, wild-caught shrimp, and a grass-fed beef-roast for the crockpot.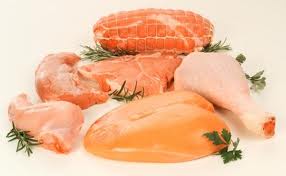 Different proteins have different amino acid profiles and other different residual vitamins and minerals.
When you rotate protein sources, you give your body a wide variety of different vitamins and minerals to fill in the missing gaps of your nutrition.
For example, grass-fed beef has high levels of CLA, (conjugated linoleic acid) a totally different type of friendly fat that you'll get from, let's say, salmon that's super high in omega 3 fatty acids.
By cycling your protein intake you'll also get a full spectrum of aminos to keep your body responding, prevent muscle loss, and promote muscle gains.
If all you do is have chicken and broccoli week after week, you'll be depriving your body of vital nutrients and amino acid profiles that you get from OTHER protein sources.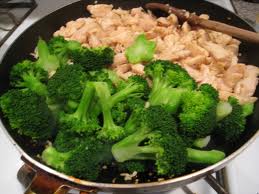 Plus, you'll get bored of the same ole' same ole'.
2. Go Alkaline  
If you hammer down too much protein on a daily basis for long periods of time, you can stress out your adrenal glands and overwork your kidneys.
At least two or three times a year, go on a protein "fast" for 2 or 3 days straight, and replace your protein intake with smoothies that consist of greens, berries, herbs, tons of fish oil and raw nuts.
This will filter out your liver and kidneys and give them a much-needed break, which will also help you avoid acidity and high levels of inflammation.
When you keep your body alkaline (vs. acidic), you'll also preserve more muscle while you cut out the protein for a few days.
A Quick Warning: Most people I've worked with over the years don't get enough protein in their diet when they start exercising.
So although I recommend you give your body a break from protein a few times of the year, don't forget to monitor your protein intake very closely the rest of the time.
One of the easiest ways to ensure you're getting enough protein on a daily basis is to follow this drop dead simple meal plan from my friend and expert nutritionist, Josh Bezoni.
This meal plan is ridiculously simple. In fact, this is probably the easiest diet I've ever seen:
=> EXACTLY what to eat day-by-day, meal-by-meal for rapid fat-loss
Have an awesome day!
Shaun