BCAAs: What Are They and Do I Really Need Them?
BCAAs are one of those supplements you've probably heard of before but may not know exactly what they are and how they can help you.
Short for Branched-Chain Amino Acids, BCAAs refer to three specific essential amino acids, leucine, isoleucine and valine.
These three amino acids are considered essential because they cannot be synthesized by the body and as a result have to be taken in through foods or supplements that contain protein.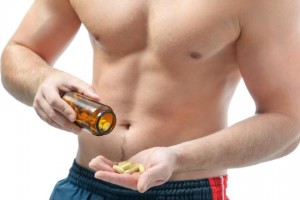 In terms of potential benefits, branched-chain amino acids can be effective in stimulating muscle protein synthesis and as a result help increase your muscle growth over time.
BCAAs can also be particularly helpful for those looking to maintain their existing muscle mass while on a calorie-deficit diet designed to help burn off fat.
And BCAAs have additionally been shown to help prevent fatigue in less-active athletes.[pro_ad_display_adzone id="8825″]
The Three Key Benefits of BCAAs
Bodybuilders and everyday fitness men and women alike can benefit from taking BCAAs, with the primary benefits being improving exercise performance and endurance, as well as creating the potential for helping with muscle recovery after workouts.
Specifically, BCAAs can:
Reduce the rate of protein breakdown
Increase the rate of protein synthesis
Increase your cells' capacity for protein synthesis
As a result, in theory and as recent studies have shown, BCAAs can help prevent the loss of muscle mass as your body burns off fat and gets leaner.
So when your body would normally begin burning muscle instead of body fat to meets its energy needs, BCAAs can help your body retain its muscle mass while continuing to drop body fat.
How and When Should I Take BCAAs?
BCAAs are available as supplements in both powder and pill forms, and with each form being equally effective, which one to take should be based on what works best for you.
The powder form is great for consuming with liquids, while the pill form can be great for portability and easy accessibility — i.e. keeping in your gym bag or car for taking before and/or after workouts.
BCAAs should be consumed around (or during) your workouts, with one dose (5 to 10 grams) typically taken around 30 minutes prior to working out and a second dose taken 30 minutes after working out.
BCAAs can be consumed along with a post-workout protein shake or meal. And if you're looking to gain muscle mass, an additional dose of BCAAs can be taken prior to sleep or upon waking to help stop muscle breakdown.
Now that you know more about BCAAs and how they can potentially benefit you, let us know what your experience is with them and whether they've helped with your overall fitness and health in our comments section below.
Keep going strong!
Shaun