Superfoods have been all the rage in the last few years, and endurance superfoods have been emerging recently as ultra-healthy foods that can help you perform better and recover more quickly from strenuous exercise.
We've covered two endurance superfoods recently in tart cherry juice and chocolate milk, but we've saved arguably the best for last: beets or beetroot juice.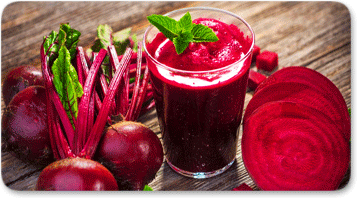 Beets are loaded with healthy nutrients like fiber, protein, iron and potassium, and they pack a serious punch when it comes to antioxidant and anti-inflammatory properties.
They also have a long history of helping protect the liver[1], and research has shown their health properties may help reduce the risk of some cancers[2].
But where beets have really gained attention recently is for their ability to provide more energy and help exercisers perform longer and better in their sports and activities.
Tap into Powerful Endurance Benefits from Beets
So what exactly is it about beets that imparts these endurance benefits?
Beets and beetroot juice provide one of the highest sources of naturally occurring nitrates, which convert into nitric oxide in the body.[3]
Nitric oxide helps improve blood flow by opening up blood vessels and allowing for more oxygen to flow through while also lowering blood pressure.
Studies on nitric oxide have shown it increases the efficiency of the mitochondria, which are your cells' energy powerhouses.[4]
In terms of real-world results, these studies have shown beets can:
Help improve finish times and overall performance: Studies on runners[5], rowers[6] and cyclists[7] consuming an average of 500ml of beetroot juice increased performance by up to 15% or more and experienced significantly lower perceived exertion[8]

Increase the time to exhaustion (or time to failure) for strenuous exercise: Cyclists who consumed 500ml of beetroot juice were able to ride up to 20% longer[7]
Increase peak power and work rate for exercise: Particularly in the latter stages of a strenuous workout or race[9]
Reduce the gross oxygen cost of exercise: Runners who consumed 500ml of beetroot juice reduced O2 cost by 12% – 14%[10][11]
Reduce resting blood pressure: A single small 70ml serving of beetroot juice reduced resting blood pressure by 2%[12]
The anti-inflammatory properties of beets are another way they can help you perform better and recover more quickly so that you can get your next strenuous workout in without feeling weak or fatigued.
The blood-red color of beets comes from betalains, which have been shown in studies to reduce chronic inflammation.
How You Can Add Beets to Your Diet
You can add beets, beetroot juice or beet crystals to your diet through salads, smoothies or lightly steaming them.
Make sure not to overcook beets, though, as this will damage the phytochemicals in beets and seriously deplete their nutritional benefits.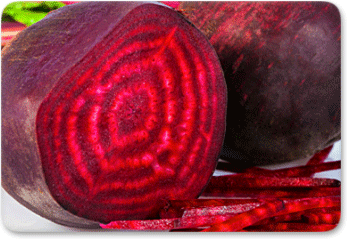 The betalains in beets also make them a great natural food coloring agent, and make a great way to give your healthy green smoothies an appealing red color rather than a green or brown color that isn't as alluring to the eye.
So whether you consume beets on occasion for an energy spike and performance boost or you eat them long term to reduce inflammation and arthritic pain, help fight cancer and blast belly fat, this endurance superfood provides just what you need for optimal health.
One note of caution on beets: You may find your urine or bowel movements turn red after consuming beets.
This condition, which is called beeturia, can be surprising and somewhat scary when first encountered, but fortunately it's not considered harmful and only occurs in a small percentage of people (10% to 14% of the population).
Live healthier and eat well,
Shaun
References