Another recipe from Karen's Kitchen: Healthy Potato Chips
 Serves 2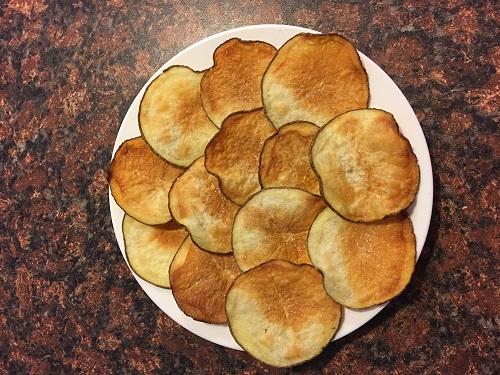 Ingredients
1 large Russet potato
Olive oil spray (I use my own dispenser)
Sea salt
Directions
Preheat oven to 450 degrees
Using a mandolin on the thinnest setting, slice potato. If you don't own a mandolin, a good sharp knife will do.
Place slices between sheets of paper towel and press down to remove moisture from the potato.
Spray a cookie sheet lightly with olive oil spray. Line slices on sheet and then spray a light layer on top of the potatoes. Be careful not to spray too much.
Cook about 15 minutes and then start checking them, pulling them out individually when browned. Place on a paper towel and sprinkle with sea salt.
Enjoy 🙂
Karen
[pro_ad_display_adzone id="8825″]