Real Nutrition Part 1:
Is the Paleo/Caveman Diet right for YOU?
In case you haven't heard already the Caveman/Paleo diet is really picking up steam and becoming VERY trendy right now.
However, just like all diets — there's always a catch.
Before I get to the catch, I'll let you know right up front that I'm not here to "hate" on the Paleo/Caveman Diet and I realize there are dozens of ways to skin the fat-loss cat.
In fact, I agree with over 90% of what the Paleo/Caveman style of eating teaches.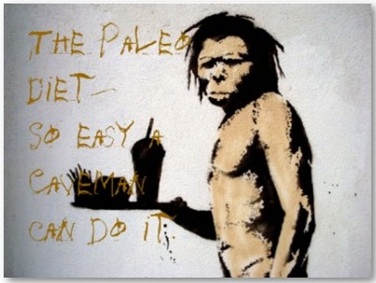 However, if you're consistently engaging in high intensity exercise this diet has a HUGE hole that needs to be filled otherwise your fat-loss and energy will come to a screeching halt.
Before I dive into the science and expose the BIG problem with this type of eating plan…or "diet" (btw…hate the word diet but it will never go away) let me quickly explain this style of nutrition in case you're not familiar with it yet.
What is the Paleo/Caveman Diet Anyway?
The Paleolithic (or Caveman) diet is a modern approach to nutrition based on what humans ate during the caveman days about 2.5 million years ago.
This is also called the Paleolithic period (hence the word Paleo) and it ended about 10,000 years ago when the development of agriculture and/or farming food started to take over.
So based on all the research I've read, this style of eating is basically limited to:
Grass fed meat
Wild caught fish and seafood
Free range eggs
Berries
Veggies
Nuts
Seeds

Pros of the Paleo/Caveman Approach
Now this seems like a great approach for a few obvious reasons.
It automatically eliminates grains, wheat, corn, processed sugar etc. all which have "anti-nutrients" and hidden obesity additives.
It's "all natural" and very low in complex carbs and certain fruits.
It eliminates all factory raised meats and fish, which is largely responsible for internal inflammation, health challenges and weight gain…
It's actually a very smart approach to nutrition because it eliminates all processed foods. Refined foods have weak effects on the hormones that regulate appetite and energy intake. Plus they can tend to wreak havoc on our systems.
This alone will be enough for anybody to get better results.
Wanna lose more weight or stomach fat?
Just cut out all processed foods (cereals, breads, pasta, muffins, bagels, etc.) and watch what happens to anybody's body fat.
I guarantee you'll see your stomach start shrinking in less than a week.
However, there's more to the story…
Fixing What's Broken with the Paleo/Caveman Approach
From everything I've read, the Paleolithic diet eliminates starches and all fruits besides berries.
This is the biggest problem I see with this approach because it doesn't take into consideration the effect high intensity exercise has on our metabolisms and our hormones.
Now if you're sedentary, go ahead and eat like a caveman: animal proteins, vegetables, whole fruits, and friendly fats (raw nuts and seeds, coconut oil, avocado)
But if you're active, you should be adding in some strategically timed low sugar, gluten-free starches and fruits to the Paleo/Caveman approach.
The best choices are sweet potatoes, potatoes, rice, bananas, cherries, grapefruit, oranges, and organic apples. I'm sure I left out a few fruits but you get the idea.
I personally prefer "white" starches and fruits like bananas because they contain pure starch and the glucose polymers our bodies need to fuel anaerobic metabolism and help with recovery, hormones, and insulin.
This fuels and facilitates a process called "glycolosis", which is SUPER important for long term fat-loss.
More on this process in the next blog post. First you need to understand glucose…
Why You Need White Starches and Other Fruits
if You Want Your Stomach to be Flatter…
You see, even though white starches like rice and potatoes really aren't caveman foods, they provide the purest, most natural source of glucose than any other food.
In fact, glucose is one of the oldest evolutionary fuels on the planet. We use it as an internal fuel source and it's the building block of foods, even as far back as the caveman days.

Now if you're a diabetic, this isn't going to apply to you because you have insulin resistance.
Your best bet to lose weight is to simply cut out pop, breads, and all processed foods and you'll probably lose a boat load of weight your first few days as long as you're eating healthy and exercising.
But if you're healthy, your body knows how to process and use glucose.
So if you've started losing some weight and you're consistently using strength and interval training, over time you dramatically improve your insulin sensitivity.
This means even as you start to lose weight and get leaner, your metabolism changes.
And when this happens you gotta "get smart", which means you have to customize, tweak, and adjust your plan as to fight adaptation.
This is when the pure starches (especially white ones) and fruit from nature will help you…
Build muscle
Boost metabolism
Raise thyroid output
Keep leptin levels in check
Improve the free testosterone to estrogen ratio
Burn more lower stomach fat.
So along with the Paleolithic choices, white starches and whole fruits right from nature should consistently be a part of your plan if you've already started to lose some weight and you're exercising consistently.
They serve as awesome anaerobic fuel and promote anabolism, which helps with glucose metabolism, protein synthesis (absorption of protein), and muscle growth.
Hopefully all this makes sense, but you also have to make sure that you consume starches and whole fruits the RIGHT way or you'll mess up all the killer benefits I just went over…
…Just make sure you hit the "like" button below and I'll be back with THREE tricks you can use to make white starches and whole fruits ENHANCE your fat-loss.
In the meantime, check out this short video from one of my good buddies and fellow nutritionist Josh Bezoni, where he reveals how you can visually "see" your belly get flatter in only 7 short days by doing a few simple food swaps.
=> SEE your belly get flatter in just 7 days by using these simple "Food Swaps"
Make sure you drop a comment if you have questions and hit "like" and I'll be back tomorrow to tell the rest of the story.
Make it a great day,
Shaun