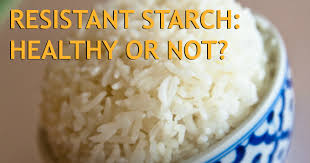 Nowadays it's a pretty common practice to eat a low carb paleo type of diet to lose belly fat, while increasing health and longevity. This typically involves avoiding starchy carbohydrates, but not all carbs are created equal. New research is now showing some remarkable benefits of adding resistant starches to your diet. Let's take a deep dive into how this healthy carb can help heal your gut and help you lose more belly fat.

Here is everything you wanted to know about Resistant Starches (well, the Readers Digest version).
Simply stated resistant starches are starches from carbohydrates that escape digestion. Did you know that NOT all starches get digested? They literally pass through the intestine unchanged (they resist digestion).
Some carbohydrates, such as sugars and most starch, are rapidly digested and absorbed as glucose into the body through the small intestine and subsequently used for short-term energy (glycogen)needs or stored (as fat). Resistant starch, on the other hand, resists digestion and passes through to the large intestine where it acts like dietary fiber.
Many studies are now showing that these resistant starches are showing that insulin sensitivity is improved, more gut bacteria, reduction in blood sugar, and reduction in appetite.
The importance of insulin sensitivity cannot be stressed enough. Having low insulin sensitivity (insulin resistance) is believed to be a major causal factor in some of the world's most serious diseases, including metabolic syndrome, type 2 diabetes, obesity, cardiovascular disease and Alzheimer's Disease.
The effect on glucose and insulin metabolism is very impressive. Some studies have found a 33-50% improvement in insulin sensitivity after 4 weeks of consuming 15-30 grams per day. (1)[pro_ad_display_adzone id="8825″]There are 4 types of resistant starches:
Type 1: is found in unprocessed whole grains, seeds and legumes and resists digestion because it is bound within the fibrous cell walls.
Type 2: is found in some starchy foods, including raw potatoes and green (unripe) bananas, high amylose corn.

Type 3: is formed when certain starchy foods, including potatoes and rice, are cooked and then cooled. The cooling turns some of the digestible starches into resistant starches via a process called retrogradation2. Retrogration is when you cook then cool the food as in rice. Rice cooked and cooled as in sushi.

Type 4: is man-made and formed via a chemical process.
Resistant starch works like insoluble fiber. These foods actually feed the gut flora in the intestines. We all have hundreds of different species of gut bacteria. RS feeds the bacteria. When these bacteria eat the RS, they form gases and short-chain fatty acids (e.g.,butyrate).2
There are other short chain fatty acids like proportionate and acetate but the best known SCFA is butyrate.
The short-chain fatty acids that aren't used by the cells in the colon travel to the bloodstream, liver and to the rest of the body, where they may lead to various beneficial effects. 3
Butyrate is the BEST fuel to feed the cells of the lining of your gut.   You want to establish a population of butyrate producing bacteria.4  
So, simply stated: The reason Resistant Starches are so important is because they ultimately feed the bacteria in the gut. You want to establish a population of
butyrate-producing bacteria. You need about 25-35 grams of resistant starch. Here are six high quality resistant starches you can add to your diet.
1: Raw Oats
2: Cooled potatoes or cooled white rice
3: Unripe bananas
4: Chilled pasta
5: Chilled Lentils
6: White Beans
Keep going strong!
Shaun
References: 
1 Insulin-sensitizing effects of dietary resistant starch and effects on skeletal muscle and adipose tissue metabolism, Am J Clin Nutr September 2005 vol. 82 no. 3 559-567
2 Resistant starch—a review of the physical properties and biological impact of RS3 S.G Haralampu, Opta Food Ingredients, Inc., 25 Wiggins Avenue, Bedford, MA 10730, USA
3 Short-Chain Fatty Acids and Human Colonic Function: Roles of Resistant Starch and Nonstarch Polysaccharides
4 Butyrate Improves Insulin Sensitivity and Increases Energy Expenditure in Mice, Zhanguo Gao, et.al.,David L. Topping, Peter M. Clifton, Physiological Reviews Published 1 July 2001 Vol. 81 no. 3, 1031-1064 DOI: