Are
You

Making Low-Carb Mistakes?

As you can imagine I've been asked about a bazillion questions over the years on low carb dieting.

This has always peaked my curiosity. As a result I've went on relentless searches for the true science of what happens to our bodies when we decide to go low carb for fat loss.

And once you understand what actually happens to our bodies when we drop or lower carb intake, you realize how many stupid little mistakes people make. This is probably one of the main reasons why low carbing sometimes gets a bad rap.

It's just human nature. We abuse something that really has a lot of potential if the rules are followed. But of course, people always break the rules.

I truly wish people would take the long term approach to fat loss by eating more small balanced meals frequently throughout the day (fruits and starches included) along with consistently exercising, but it's not gonna happen.

YES, the weight does come off slower this way. So even though it's the healthiest and best approach to weight loss, it's just not fast enough to keep the masses in the game for the long haul.

Primarily because people want instant gratification. This will never change.

People are people and they will continue to take the extreme approach when it comes to losing weight. The reality is that low carbing is not going away anytime soon.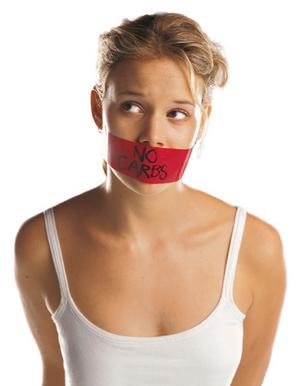 And for a good reason. If you know how to properly deplete glycogen AND preserve lean muscle, you can melt off fat like nobody's business.
The big fat problem is that most people know how to deplete (drop their impact carbs), but they have no clue how to preserve muscle tissue and create a healthy internal environment that keeps the metabolic rate cranking.
Which leads me to today's tips. Since I KNOW people are going to diet and go low carb, they might as well do it right, eh?
It's fairly common to witness people make 2 or 3 (if not all) of these low carb mistakes and it really does sabotage all their hard work and effort. They end up losing precious muscle tissue and destroying their metabolisms.
(I'm going to stick with the strategy here instead of going into all the details about the actual science. If you're a science geek or you're one of those people who must know ALL the facts first, I highly recommend you invest in "The Ketogenic Diet: A Complete Guide for the Dieter and Practitioner" by: Lyle McDonald. It's 325 pages of dense text with over 600 scientific references. Just a heads up: it's very technical and dry too.)
For those of you who just want to avoid the mistakes and pitfalls of low carb approaches so you can instantly increase the fruits of your low carb labor, here's your solution.
10 Low Carb Mistakes That Could Be Sabotaging Your Results
1. Skipping exercise: Most people think that because they're dieting or going low carb that they don't need to exercise. Sorry my friends it doesn't work this way. The low carb diet sets up the environment for the exercise to do it's magic.
Just make sure you don't over do it. Four to five hours a week of intense exercise is plenty when cutting carbs. If you do anymore than this you're asking for trouble.
2. Not enough fiber: So many people are busy counting carbs and protein; they forget the most important thing is to keep the system regular – fiber. Eat lots of green veggies (at every meal if you can). This also helps with vital nutrients and keeping us feeling full too.
Plus, you don't wanna end up feeling like this guy – do you?. He-he.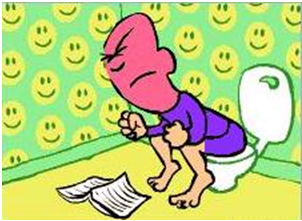 3. Lack of adequate water and too much alcohol intake: Think of water as the catalyst that makes everything else on a low carb plan work properly and run smoothly. Always consume at least 50% of your total body weight in ounces of filtered water daily.
One more quick tip. If it's out of sight, it's out of mind. Be a bottle baby. Always have a bottle nearby, but not THIS kind of bottle…haha.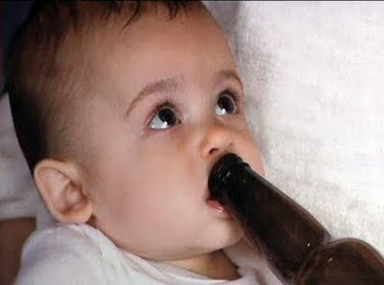 Speaking of this kind of bottle, if you're drinking socially a couple nights a week it will just destroy the hormonal effect you're trying to create from healthy depleting of carbs. Save the booze for your diet breaks and special occasions if you really want to drop weight and burn fat.
4. Using peanut butter or nuts: This is a big one because most people over do it with the portion control. It's always half the can of nuts instead of just having 10 to 12.  Also, a lot of peanut butters have unhealthy fillers, hidden sugars, and there are simply too many calories.
Nuts are great for you and they're a healthy snack, but they're better left alone when cutting carbs.
Use fish oils like super concentrated krill oil instead.  I recommend at least 10 grams a day when using the low carb approach.
5. Using low carb or no-carb fake foods. Most of the time these fake foods contain sugar alcohols, which will directly or indirectly impact blood glucose and insulin.
The whole point of going low carb is to keep blood glucose and insulin super low, so consuming these low carb quick fixes just defeats the whole purpose of your plan altogether.
I won't even get into the chemicals they lace this crap with. It just makes things even worse.
6. Too much dairy and milk: There are a few exceptions to this rule, but in general milk and dairy have too many hidden milk (or other) sugars. Plus, most of them are not a great source of protein (unless it's cottage cheese or Greek yogurt). Skip the milk products and supplement with a cheap calcium lactate supplement instead.
You can still have a couple servings of dairy daily (and you should) but use cottage cheese, small amounts of low fat cheese, or Greek yogurt.
Skip using milk until you add carbs back into your plan.
7. Using protein powder instead of real food: Protein powder has it's place, but nothing will ever work as well as good ole' fashion food. Only use protein powder as something to fall back on a couple times a day if necessary, but always plan for 3 to 4 meal a day to be solid food.
This will keep you full, keep your metabolic rate humming along (from digestion and heat) and provide a larger spectrum of the necessary vitamins and minerals.
8. Lack of proper supplement use: It seems like people are always trying to use things like fat burners or metabolic enhancers instead of what's actually necessary when using this type of approach. Again, nothing will replace real food when low carb dieting, but supplementing with certain things is crucial.
When you go low carb you deplete your body of specific nutrients like sodium, potassium, and magnesium. So it only makes sense to use things like vitamins, minerals, and electrolytes to keep your body healthy while you use an aggressive approach.
Also make sure you have some whey protein handy to fall back on when you don't have access to solid food or you're in a hurry.
9. Abuse of Cheat foods or carb loading: Most of the time people either binge and cheat too much OR don't cheat at all. This either crushes the hormonal response or creates a ton of fat spillover.
When you overdue it while cheating, you end up starting over from ground zero. On the other hand, if you don't cheat about every 7 days, your thyroid hormones get suppressed and leptin levels drop severely.
I covered this in GREAT detail in my last post: WHEN should you use cheat food?
10. Failing to take a real diet break. This is why 95% (or more) of people gain all or more of their weight back when they lose it. It's either extreme dieting or extreme binging and unhealthy eating. There's a significant lack of balance.
By incorporating "diet" breaks for a couple weeks at a time, you set yourself up for long-term success. Typically during a diet break you want to stay healthy, but use a more balanced approach.
A great example would be Monday thru Friday consume 4 or 5 balanced meals a day (6 if you're advanced) while avoiding starches after 6pm.
You also should incorporate a traditional strategic cheat day on the weekend. Then maybe depleting (under 25 grams of impact carbs) one day of the week just to keep the weight at maintenance.
In fact, I've seen many people (personal clients and friends) continue to lose 2 or 3 pounds a week with this approach when their exercise is in check.
Additionally, it gives them a better foundation and sets them up for a lifestyle of healthy eating instead of being stuck in the Yo-Yo syndrome all the time.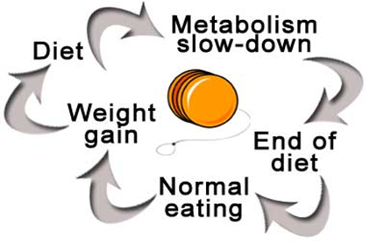 So there you have it. The 10 most common mistakes that I see people make when they try to monitor carb intake for fat loss.
All you have to do is print this bad boy off and keep it handy when you're taking the low carb road. I guarantee this will make a huge difference in your results.
If you liked this article, please forward it to your friends and family. As always, hit the "like" button since half the world is on Facebook now.
And don't forget to leave a comment if you have questions…or if you just wanna get something off your chest…that's cool too!
I'm here for you!
Your friend and coach,
Shaun