Discover "all-natural" ways to control your body's #1 fat-loss hormone
Today I'm back with another awesome content video that you're not gonna wanna miss.
I reveal 2 sneaky strategies you can use to maximize your leptin levels (leptin signaling). If you're not familiar with leptin, it's your body's #1 fat-loss hormone.
Bottom Line: Control leptin signaling. Control fat-loss.
Click "play" above and today's video will show you how.
And don't forget, this is all part of my midsummer fat-loss blueprint I'm using while I vacation and travel over the next few months.
It's a full-blown library containing 101 anytime-anywhere bodyweight exercises you can use to prevent muscle loss and avoid cardio overload (and plateaus) before summer is over.
I don't want to lose muscle. And when I replace my weights with JUST cardio when I travel, I tend to LOSE muscle. I work too damn hard to gain and maintain muscle to just turn around and lose it from cardio overload.
UNACCEPTABLE. 😉
But thanks to my boy CB (Craiggery Ballantyne), the world's TOP expert in this area, this no longer has to be a concern.
And that makes me happy. But I want to make YOU happy too.
So Craig and I got together and we're hookin' you up with a killer midsummer fat-loss deal.
=> 101 Bodyweight Exercises & Nutrient Timing Tricks for Rapid Fat-Loss FREE
And if you take action now you'll also get my brand new Nutrient Timing Tricks for Rapid Fat Loss Guide 100% FREE.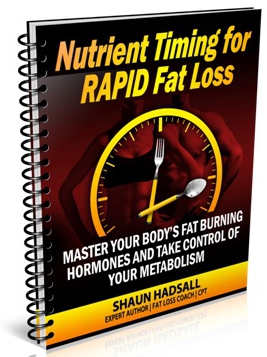 But hurry, this deal ends on Monday, August 20th at Midnight.
=> That's FIVE products for one LOW price. <=
This is special deal that's been setup for my readers ONLY.
Just make sure you forward your receipt to my assistant Joy: support(at)getleanin12.com – so she can send you over your Free Bonus Guide.
Enjoy all the midsummer fat-loss,
Shaun