It's a lot easier than you think!
It's actually quite rejuvenating!
I'm talking about Intermittent Fasting (IF).
But before you turn me off and move on to the next post, hear me out.
MYTH BUSTER: It is a total myth that if you go without food for a certain "small" period of time, you're going to lose muscle. Our bodies were designed to be able to skip meals. (Hard to believe this but it used to be normal to not eat for a while due to droughts, crop failures or the inability to find game).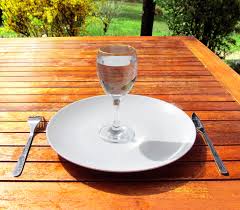 Intermittent fasting is where you give your body a rest from digesting. The rest could be anywhere from typically 14 to 36 hours with no or few calories.
Fasting has been around since the world began.  It has been part of every culture since the beginning.
More than several studies have shown that decreasing one's calories by around 40% actually extends life spans by a third (or more). It also reduces the risk of common diseases as well as improving the body's response to insulin. Being insulin sensitive is the bedrock of great health.
The following are several ways to intermittently fast with pros and cons for each.
Pick the one that suits you the best, or one that is sustainable. There's no point in being miserable to improve your health.
Methods of Intermittent Fasting

Eat Stop Eat by Brad Pilon
No food is eaten for 24 hours (once or twice a week). On the other 5-6 days you eat normally. This will reduce your normal caloric intake without having to be so strict the other days of the week. The easiest way to fast for 24 hours, 2 days a week is to eat dinner then fast till dinner the next day.

Pros:
No counting calories,  fat or carb grams. You still have to eat responsibly. Coming off of a 24-hour fast to go indulge in pizza, or fried chicken and ice cream is not gonna work.

Cons:
This is difficult for some. Many cannot stomach the thought of not eating for a whole 24 hours. They may have tried it and gotten a headache, felt fatigue or anxiety. (These occasional symptoms can be reduced with proper eating on the days prior to the fast). Also, some will binge after 24 hours of not eating.
The 5:2 Diet  by Dr. Michael Mosely
This is when you eat normally 5 days a week and fast 2 days. But the difference from the Eat Stop Eat Protocol is that on those 2 days you can eat up to 500-600 calories. This is called the FAST diet or the 5:2 Diet
Pros: Same as for Eat Stop Eat.
Cons: Eating only 500-600 calories twice a week may be challenging for some.
[pro_ad_display_adzone id="8825″]
Warrior Diet: by Ori Hofmekler
In the Warrior Diet you abstain from food for 20 hours and eat one large meal in the evening in a feeding window of approximately 4 hours.  Hofmekler states that we are nocturnal eaters. We automatically like to eat at night. During the 20 hours  you can eat lightly (raw fruits or veggies).
According to Hofmekler, not eating in this 24 hour widow stimulates the sympathetic nervous system to promote alertness and boost energy as well as lose weight and then eating in the 4 hours window at night now relaxes you by stimulating the Parasympathetic nervous system. This helps you build muscle. During that 4 hour window eat veggies protein then fat (eat in that order) then if you are still hungry then eat carbs .
Pros
Many like the thought that during the 20 hour window, one can lightly snack on veggies or fruits…then eat a large meal at dinner. People have reported increased energy levels during the day.
Cons
It can interfere with social events. eating in a specific order during that 4 hour window may be tough to do. If you don't like eating late in the day, this is not for you.
16/8 Diet by LeanGains
Fast for 14-16 hours then eat in a 8-10 hour window.
No calories during the fasting window. Then eat 2-3 meals during that window. So if your feeding window is from noon to 6 or 7 pm, you need to stay on that schedule so you don't throw your hormones out of balance. This boils down to: stop eating after dinner then your first meal is lunch the next day.
I wrote the Siesta Key Beach Diet which follows this protocol mainly because we wintered in Florida and after the first few weeks of dinners with out-of-town company, I knew I was in serious trouble if I didn't Intermittently fast.
You can drink water and coffee while you're fasting. On the days you exercise eat more carbs. You still need to make healthy choices during your eating window. On the days you don't exercise eat more fats but eat the same amount of protein daily.
Pros
You can eat whenever you want during that 6-8 hour window.
Cons
Tough cause you still have to plan your meals around your workout schedule
Alternate Day Fasting (ADF) Dr Krista Varady
On days you "fast" you eat no more than 500 calories. On days you don't fast you eat normally.
This is done 7 days a week.
Pros:
Probably the easiest to lose weight cause you are reducing your total calories 3-4 days per week
Cons
Many binge on the days that one can eat normally.
please consult your medical health practitioner if you've never fasted before or have chronic diseases.
Final notes:
Intermittent fasting is not for everyone. But if you have hit a plateau or just want to see improvements in blood pressure or hormonal balance, pick a method and if you find that you don't like it or your schedule doesn't easily bend to the new structure, drop it and move on to something else. Keep trying till you find the one that perfectly suits your lifestyle and preferences.
Shaun