Want a great-tasting superfood that packs a wealth of health-boosting properties?
Rich in antioxidants and anti-inflammatory properties, as well as polyphenols (plant-based molecules that help maintain health and wellness), tart cherries are becoming a popular option for boosting your health in a variety of areas.
Last week, we looked at the "endurance superfood" benefits tart cherries can provide in terms of muscle recovery and pain reduction during and following strenuous exercise.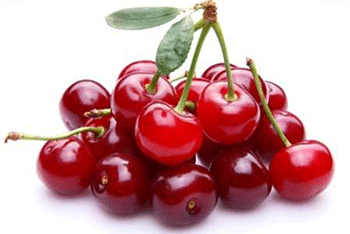 Today we'll look at three more key health benefits tart cherries can offer.
Beat Belly Fat Bulge with Tart Cherries
Recent studies on animals fed tart cherries indicate this superfood may be able to help with losing abdominal (belly) fat and also aid in adjusting metabolism.
The anthocyanins (the pigment in cherries that give them their deep red color) in tart cherries combat the development of obesity, according to a recent study.[1]
Another study on rats fed tart cherries revealed this superfood can help reduce belly fat and at the same time keep metabolism functioning properly.[2]
The rats fed tart cherries were less likely to build up fat in their bellies and had lower total cholesterol, lower blood sugar, less fat storage in the liver and lower oxidative stress.
While it's not conclusively proven that tart cherries have the exact same effects in humans, these studies are promising for those looking to add another tool in their fight to beat belly fat bulge.
Struggling with Sleep Issues?
Having trouble sleeping? Tart cherries are naturally rich in melatonin, a hormone that regulates your internal clock to help you sleep better.
And the same anthocyanins in tart cherries that assist in preventing obesity also aid in slowing the breakdown of tryptophan, which can help lengthen the sleep-inducing effect.
In real-world terms, this can mean significantly longer and more restful periods of sleep.
A 2014 study found that those who consumed tart cherry juice twice daily averaged 84 more minutes of sleep each night compared to those who drank a placebo drink.[3]
So if you're struggling to fall asleep, tend to wake up frequently throughout the night, or find yourself not feeling well-rested or recharged after sleeping, consider adding tart cherry juice to your daily routine to help improve the quality of your sleep.
Jumpstart Your Immune System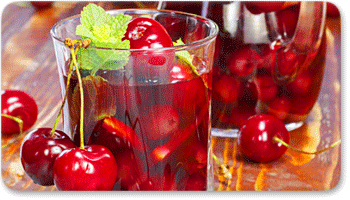 Tart cherries offer an abundance of antioxidant, anti-viral and anti-inflammatory properties that can help fight infection and boost your immune system.
The flavonoids in tart cherries in particular have been shown to significantly increase immune system functionality.[4]
Cherries are also a great source of vitamins and nutrients, particularly vitamin A and vitamin C.
Research has shown that the antioxidants in cherries can also help protect against heart disease, prevent brain aging and prove beneficial against a variety of degenerative diseases by protecting neurons from cell-damaging oxidative stress.[5]
So the next time you want a refreshing glass of juice, try one like tart cherry juice that's packed full of health-fortifying, sleep-enhancing and belly bulge-busting nutrients!
Your friend and coach,
Shaun
References
Prior RL, Wilkes SE, Rogers TR, Khanal RC, Wu X, Howard LR. Purified blueberry anthocyanins and blueberry juice alter development of obesity in mice fed an obesogenic high-fat diet. J. Agric. Food Chem. 2010 Apr;58(7):3970-6
Seymour EM, Lewis SK, Urcuyo-Llanes DE, Tanone II, Kirakosyan A, Kaufman PB, Bolling SF. Regular tart cherry intake alters abdominal adiposity, adipose gene transcription, and inflammation in obesity-prone rats fed a high fat diet. J Med Food. 2009 Oct;12(5):935-42.
Liu AG, Tipton RC, Pan W, Finley JW, Prudente A, Karki N, Losso JN, Greenway FL.  Tart Cherry Juice Increases Sleep Time in Older Adults with Insomnia. Experimental Biology 2014. San Diego, CA. April 28, 2014.
Middleton EJ, Kandaswami C. Effects of flavonoids on immune and inflammatory cell functions. Biochem Pharmacol. 1992 Mar 17;43(6):1167-79.
Kim DO, Heo HJ, Kim YJ, Yang HS, Lee CY. Sweet and sour cherry phenolics and their protective effects on neuronal cells. J Agric Food Chem. 2005;53:9921-7.