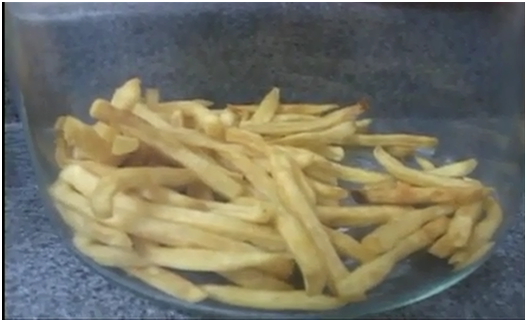 Do you remember watching Supersize Me back in 2004 when it first came out?  Morgan Spurlock was dating Alexandra Jamieson and they had been talking about health foods. He pondered what it would be like to just eat junk (fast foods) for a long period of time. He decided to record and document what happened. Spurlock ate McDonald's (breakfast, lunch and dinner) for 30 days straight. Little did he know that he would one day be nominated for an Oscar for this documentary.
…And who can forget that image of the NON-decomposing McDonald's french fires after 10 weeks. (see image —They look like they did on the day they were purchased.)
Not only did Spurlock gain weight, damage his liver, got depressed,  and lost sexual function, but his documentary did a lot to expose the fast food industry.
Some McFacts:
McDonald's serves 69 million people every day worldwide.

They sell 75 burgers every second around the world.1
McDonald's value is estimated to be $85 billion.
McDonald's Chicken McNuggets also came under attack after it was found that only 50% of the nuggets is chicken. The other 50%  is a mixture of corn derivatives, leavening agents, sugars, and completely synthetic ingredients. 

Then there's the McRib pork sandwich: You don't want to know! Apparently, one of its ingredients is azodicarbonamide, a chemical used to bleach the flour in bread… but is also used in making gym shoes and yoga mats.
 Tim Spector, a professor of genetic epidemiology at King's College, London, wanted to learn what happens to your gut bacteria if you ate only McDonald's for 10 straight days. His son, Tom, agreed to do the experiment and sent stool samples to different labs throughout the 10-day period.
 After just 10 days of eating fast food, his stool samples revealed that his gut microbes were "destroyed" – about 40 percent of his bacteria species, amounting to over 1,400 different types, were lost. This severe loss of microbial diversity increases the risks for obesity and diabetes.
About 80% of your immune system lies in your gut. There are nearly 100 trillion bacteria, fungi, viruses, and other microorganisms, good and bad, that make up  your body's microflora. These organisms play a crucial role in your mental and physical health, and if this balance messes up, you become a candidate to a wide range of health problems.
In an interview with Spurlock, he was asked what long term effects happened after filming the documentary. He said that it was his ability to quickly gain weight now. He increased his "fat storage sites (excess cells) that now just wait around to be filled with fat if I overeat." 
The movie inspired Spurlock to join a Community Supported Agriculture (CSA) or locally grown produce. He said creating his own movie turned him on to  reading all labels.
[pro_ad_display_adzone id="8825″]
So did the documentary make any changes in the fast food industry?
The biggest thing that came out of this film was that fast food companies now place the fat and calorie count next to their foods on menus. (Interview with Paula Crossfield).
In March 2015, McDonald's announced that they are going to be buying only chicken raised without antibiotics  – a change that would take place over the next two years. They also said that they would begin using milk from cows that have not been treated with the artificial growth hormone rBST.
Thank you, Morgan…
Bon Appetit
Shaun
1 http://articles.mercola.com/mcdonalds-hamburger.aspx?utm_source=articles&utm_medium=banner&utm_campaign=rb_6_mcdonaldshamburger
2The Fiscal Times, April 30, 2012