How Carbs Work
Most folks know that carbs can make them fat, but they really have NO clue about how carbs work inside the body.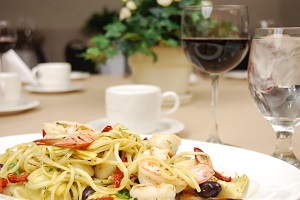 How carbs work….in your body.
Once you have a basic understanding of how carbs work, then you can take the appropriate steps to "fix" your blood sugar and minimize fat-spillover from excess carb intake.
So here are the 3 stages of carb storage you need to be aware of.
This will help you avoid storing them as fat on your body.
Stage 1: Immediate Energy Needs: Digestion begins as soon as an impact carb hits your mouth. They are quickly made available for energy needs or stored for later use.

This is why I recommend eating starches and fruits 3 to 4 hours before high intensity workouts – to ensure the extra energy will be burned off and prevent potential muscle loss.
Stage 2: Storage in the Muscle & Liver: Your body stores carbohydrates as glycogen in muscle and liver tissue as a source of energy for movement and daily function.
Storage usually continues until the muscle and/or liver is full.
Keep in mind, the average human body can only hold about around 100 grams of glucose in the liver and approximately 400 grams in the muscles, depending on their size.
This is why I recommend consuming your largest carb serving of the day within one to three hours after high intensity exercise – when you've depleted and/or burned off stored energy.
This leaves more room in your tank (muscle and liver) for carbs to replenish depleted glycogen (energy from carbs) and prevents stage 3 below.
Stage 3: Storing Fat / Spillover: When energy intake is abundant and little or no energy is expended, muscle and liver stores over fill, and the body starts storing the unused energy as fat.
So unless you know how to STOP, or at the very least, minimize stage three, any and all impact carbs you eat will "spill over" and be stored as fat on your body.
There are two simple strategies you can use to avoid stage 3 "spillover."
First, avoid starches and fruits on high intensity cardio days about 3 to 4 days of the week.
This will force your body to burn more fat AND create lots of room for extra carbs on the other days of the week — when you train with weights or decide to cheat on your diet.
Second, go download the brand new *free* report below.
It shows you 4 strategies that are scientifically proven to lower your blood sugar and increase insulin sensitivity, which ultimately helps you avoid storing carbs as fat. It's just a matter of knowing how carbs work.
==> New science-based method proven to STOP carb-based fat "spillover"
Talk soon,
Shaun
P.S. If you're not familiar with other proven "carb cycling" or carb "rotation" strategies, here are two of my favorites:
Beginners Carb Cycling Plan <== Rapid Fat-Loss
Advanced Carb Cycling Plan <== Experienced People Only