Hormones: How To MASTER Them…
Since the "theme" of this week is detox and cleansing, I wanted to quickly share our newly updated 2014 grocery list that my wife will be using to help us avoid toxic foods
and master our hormones for the New Year.
So instead of giving you the same ole' outdated advice of:
"Buy MORE organic fruits and vegetables blah blah blah."…
Let's talk about what foods you really DO need to buy organic vs. which ones you don't…
…Especially since we all know it can be a bit pricey.
So first, make sure you focus solely on the Dirty Dozen when you buy organic foods, which includes:
Nectarines, celery, apples, lettuce, strawberries, grapes, blueberries, peaches, potatoes, bell peppers, and cucumbers.
These foods have been shown to contain the highest amount of residual pesticides, along with other toxic chemicals that can jack up your hormones, damage your DNA — and negatively alter your cellular health.
In other words, these are the foods worth spending extra coins on to improve your health and speed up your fat-loss results.
Got it? Coolio.
NOW, let's save you some money with the Clean Fifteen:
Onions, asparagus, avocados, watermelon, cantaloupe, yams, coconuts, sweet potatoes, kiwis, squash, eggplant, pineapple, oranges, peas and cabbage.
Write these down or print them out, because research tells us these are the foods you do NOT need to buy organic.
Now, here are a few more notes to add to your grocery list:
1. AVOID corn-fed beef and all farm-raised fish.
They're highly toxic and inflammatory on your body because they contain high amounts of omega 6 fats and even feces.
Yuck!
Buying grass-fed meat and wild-caught fish – or buying from a local farmer or farmer's market is the best way to add these into your plan without breaking the bank.
In fact, some of the BEST tasting food in the world (even meats and fish) can be purchased from your local farmer's markets at dirt cheap prices…
…Especially at the end of the day when they're closing up shop and trying to dump off everything they can before heading home for the day.
2. Do not buy plastics with a recycling symbol with a 3, 6, or 7 listed on it. (This one is a major Hormone-disruptor)

They can "leach" plastic particles into your system that can mimic estrogen, which can create all kinds of nasty side effects that we've been talking about this week.
Mastering Your Hormones just got simpler:
– TWC is the ONLY food-based program on the market, so you don't have to worry about using some dangerous or extreme methods to rid your body of nasty fat-storing toxins.
You'll get:
– Detailed instructions and Fast Start Coaching Videos
– Delicious recipes containing REAL foods
– Shopping lists to make it stupid simple
Basically everything you need to "naturally" rid your body of all the toxins you've accumulated during the Holidays.
"Master Your Hormones, Burn Fat."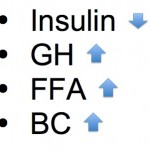 The title says it all… you'll learn how to MASTER your body's 4 primary hormones, to help you burn even more unwanted fat during this process.
Main Hormones
On top of ALL of this awesomeness described above…
Yuri just added a copy of his TWC Accelerated Weight-Loss Strategy Guide, specifically designed to work hand-in-hand with his natural cleansing system, for people who buy today.
Cleanse Your Body and Master Your Hormones
I'll be back tomorrow to close out this article series with a short article revealing EXACTLY why 99% of all other detox diets out there fail miserably…
…and how they can actually damage your body, doing more harm than good.