In this video, Shaun reveals the critical differences between high fructose corn syrup and the natural sugar in fruit, how they both affect your body and how they can either help or hinder your weight loss.
Hi everybody, I have a brand new video series for you today and I'm pretty excited about this.
I've been doing a ton of research on fructose, so what I want to do today is share the SCARY truth about refined sugar, and particularly high fructose corn syrup and similar processed sugars.
I'm going to start by comparing and contrasting high fructose corn syrup (HFCS) with the natural fructose found in fruit.
In this video, I'm going to share how you can consume the natural fructose in fruit so that it works for your fat loss efforts and not against them.
Now I'm not sitting here saying fruit is going to make you fat. That's not the case.
However, if you consume it the right way and use the tricks I'm going to share with you, you can stack the deck in your favor and actually get it working for you in terms of fat loss.
Now here's the truth. The media and the big food industries want to manipulate us and make us think that because fruit has fructose in it, it's the same as HFCS or corn sugar or similar refined sugars.
This is a big fat lie though. And in this video I'm going to reveal the impact on three different things – your liver, your insulin and your energy level – that will show you just how HFCS affects these three areas versus the fructose in fruit.
And the profound difference is going to make a huge impact on your belly fat and your overall health.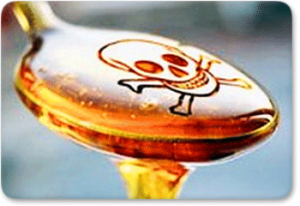 But first, to put the exponential rise in sugar consumption into context, back in the 1800s people were only consuming about 22 teaspoons of sugar per year.
Fast forward to today and we're consuming 150 to 180 pounds of sugar on average per year! That's nearly half a pound of sugar per day for the regular person!
How HFCS Impacts Our Health Differently than Fruit
Here's what's happening when so much of this sugar is a refined sugar like High Fructose Corn Syrup.
While the fructose from fruit from nature has a strong molecular tie to glucose, there's absolutely no molecular link between HFCS and glucose like there is with natural fructose in fruits and glucose.
And as a result of the chemically-altering processing of refined sugars like HFCS, which are hidden in a wide, wide variety of seemingly healthy foods (see below), consuming them results in key differences, including:
There's no digestion required – it goes straight to the liver
It immediately triggers a process called Lipogenesis, which does a few really nasty, ugly things
Lipogeneis immediately triggers the release and formation of unhealthy cholesterol and bad triglycerides
It also creates a dramatic spike in insulin, putting your body into a fat-storing environment and potentially setting yourself up for future problems like type 2 diabetes
Deplenishes ATP (Adenosine triphosphate), our body's primary energy source, as a result of needing twice the ATP molecules to metabolize it
This decreases your body's available stores of energy for use now or later
Fruit on the other hand:
Slows digestion
Enhances liver and muscle glycogen replenishment at the same time
This enhances ATP, enabling your body to make the fructose from fruit immediately available for energy or energy later
And when you consume fruit with starches at the right times, it can actually enhance your body's overall ability to replenish muscle glycogen.
This is huge for a healthy metabolism and fat loss long-term!
HFCS: It's Seemingly in Everything!
One last important item to note before we wrap things up, is just how prevalent High Fructose Corn Syrup, corn syrup and similar refined sugars are in the food items we consume each day.
It's in all the energy drinks you see advertised. It's in many of the yogurts on store shelves, particularly the low-fat and non-fat varieties.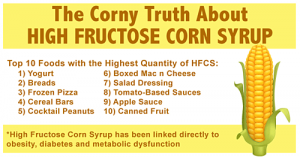 And it's often even in items you'd likely never think would contain it, including pasta sauces, ketchup, barbecue sauce and even bread (almost all of them, including the whole grain breads, list HFCS or a similar processed sugar as high as the third or fourth ingredient)!
HFCS and refined sugars are particularly prevalent in processed foods, even in cereals and some "nutrition" bars and some protein powders that you would think were healthy!
So, when you're buying food, make sure to pay close attention to the food labels and particularly the ingredients list in them. And make sure to avoid the foods high in refined sugars and HFCS as much as possible!
Your friend and coach,
Shaun