Karen and I are saying no to these 4 "healthy" foods right now as we're hitting the exercise and nutrition hard getting ready for a 10 day vacation to Jamaica  — so we're starting to get a little more anal.
After all, we want to look our best for the beach! Ya Mon!
Now it should go without saying that I'm obviously not going to be eating breads, cereals, whole grains, corn or anything processed for at least six days of the week.
I always make sure to watch the soy by making sure it's non-GMO. And I consume small amounts when I do have it because it can raise bad estrogen levels inside our bodies.
This is the obvious stuff we need to cut out for faster fat-loss…
…But to accelerate my results even further I'm also cutting out four other "healthy" foods because they're sneaky little culprits that have too many hidden calories and block the burning of belly-fat in a BIG way.
•    Milk
•    Nuts and nut butters
•    All cheeses
•    All sauces, dressings, and oils on salads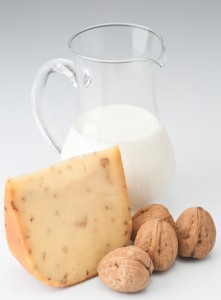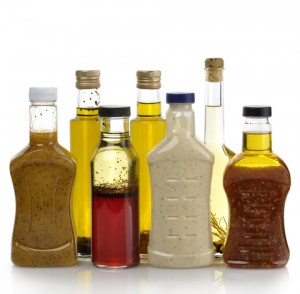 Even though these 4 foods are generally considered healthy, you need to monitor them carefully if you want to burn-fat.
1.  Milk sugars always add insulin to your meals. If your goal is to shrink your gut or your  pooch belly, you must LIMIT insulin as much as possible. Not to mention, all the extra calories milk adds to your plan.
Additionally, store-bought milk is really NOT that healthy. It's a great source of calories after workouts if you're trying to add muscle, but that's about it.
2.    Raw nuts and raw nut butters are awesome sources of healthy fats, but they pack too many calories (9 per gram). So the main reason I'm cutting them out is because I ALWAYS abuse serving sizes when consuming nuts and nut butters. Most people do.
3.    Remember, cheese is not a protein. It's primarily a fat. If you look at the cheese label it will usually have more carbs and fats than it does protein, so it packs quite a few calories.
Plus, who has just ONE serving of cheese? C'mon…we always overdo it when eating cheese. Additionally, unless it's raw cheese from a local farm it's just not that healthy of a food – at all.
This is my toughest one. I love cheese (it was the very first word I ever spoke), but I know the end result will be worth it.
4.    The last thing I'm doing is limiting all sauces and dressings to: mustard, no sugar hot sauces, low sodium soy sauce and no-sugar salsas.
That's it. If I attempt to use other low carb sauces or condiments it will just add a bunch of hidden crappy calories into my plan everyday.
Additionally, I'm only using coconut and olive oil for my cooking and I won't use any oil on my salads.
Why?
Because I grab the bottle of olive oil and I DUMP it onto my salad and it ends up being calorie overload. 🙂
Eliminating just ONE serving of each of these per day will easily cut out 400 – 500 calories out of my daily nutrition plan – maybe even more.
Just do the math:
1 serving of milk = ~200+ calories
1 serving of nuts and/or nut butter = ~200+ calories
1 serving of cheese = ~100+ calories
1 serving of oil or dressing on a salad = ~100+ calories
And I'm being conservative. Unless you're measuring your portion sizes, you're probably overdoing it with all four of these foods.
Using these tips will easily take an extra pound or two of fat off your belly per week. If not more.
After I reach my target body-fat levels, I'll add these back into my plan. But I'll still be conscious of monitoring my portion sizes on all four of these foods.
You should too if your goal is to burn-fat.
Also, I'll still consume all four of these on my cheat day if I want to. This way I'm not deprived for weeks on end.
Wanna learn about several OTHER so-called healthy foods that you should limit or cut out or your plan?
My buddy Kyle reveals them right here:
==> STOP eating these healthy foods for a healthier body and a flatter stomach
And if you'd like to learn how to instantly gain control of the only hormone that controls literally everything related to fat-loss…
Make sure you check this out this science-based 30 second trick:
==> Control THIS hormone and crack the fat-loss code
Talk soon,
Shaun