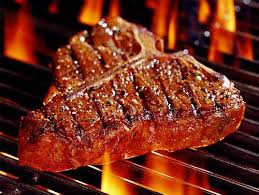 It's mid-summer, which means it's everybody's favorite time to grill.
HOWEVER… there can be a downside and a serious health risk associated with grilling your meat.
There's also a simple solution you can use to protect yourself.
First: the Bad News
That smoky flavor and char on your meat is not good for you. When fat from cooking meat drips down on hot coals, the smoke that forms contains PAH or polycyclic aromatic hydrocarbons and that charred exterior creates heterocyclic amines (HCA). While we don't know in what quantities these compounds become carcinogenic, both of these chemicals have been linked to colo-rectal cancers. 1
And this only occurs in grilled meat over coals.  (When you cook meat in a water base as opposed to grilling, searing, or broiling,  you eliminate the harmful HCAs.  So, meats cooked in a soup, or cooked in a crock pot will not have the carcinogenic HCAs.)
Fortunately, when it comes to our favorite summer pastime, grilling, there is a simple solution you can use to lower this potential toxic meat burden.
[pro_ad_display_adzone id="8825″]
The Good News
It's been shown that  marinating meats for at least several hours beforehand in liquid mixtures that contain rosemary and other herbs and spices can dramatically help to reduce HCA's (heterocyclic amines). The antioxidants in these herbs prevent HCA formation by as much as 90%.
So using rosemary, thyme, garlic, oregano and other spices in a meat marinade before grilling meats can drastically reduce any carcinogens that normally would form on grilled meat. 
What about rare vs. well done?
The more well-done a meat is cooked, the higher concentration of carcinogenic HCA's can form, meaning that rare, medium-rare, or medium are healthier choices than well-done. 
By the way, even charring vegetables on the grill creates different carcinogens such as acrylamides, so don't think that the negative effect of charring only applies to meats.
But at least you now know what to do, because grilled meat tastes amazing and there's no way I'm giving up my grilled steak or my grass-fed hamburgers!
The Bottom line …
If you are grilling your meat? Your health may be at "steak" 
Keep going strong!
Your friend and coach, 
Shaun
1 http://www.bonappetit.com/test-kitchen/cooking-tips/article/is-grilling-good-for-you-or-bad-here-s-what-science-says