Green Vegetables:
Yesterday I revealed the dangers of eating protein the wrong way and a simple quick-fix you can use to make sure it doesn't cause inflammation or wreak havoc on your kidneys.
The quick-fix?
Just combine your proteins with alkalizing, cruciferous, green vegetables as much as possible.
Some great unconventional super green vegetables  you can use to reduce inflammation outside of the normal broccoli, spinach, and green beans are…
Kale, Swiss Chard, Arugula, Collard Greens, Bok Choy, and Water Cress. I'm sure there's plenty of others, but these are all GREAT choices of Green Vegetables.

Green Vegetables Reduce Chronic Inflammation and Increase Fat Loss
I'm not a huge fan of eating lots of green vegetables. Never have been.
If it weren't for my wife I would definitely be "green" deficient.  Unlike me, she's a greens freakazoid. 🙂
But that doesn't mean I don't recognize the undeniable fat- burning and health benefits of green vegetables. And it seems like the more I eat them, the more I crave them.
And if you have any interest in losing-weight, having more energy, preventing deadly diseases like cancer and heart disease, or even becoming "smarter"…
…then you NEED your greens.
But there's ONE particular macro-nutrient you should always try to include with your servings of cruciferous veggies.
FRIENDLY FATS.
These fat fighting greens naturally contain many super nutrients like DIM, which is an oil soluble compound, so it's always best to consume your greens veggies with other oils and fats.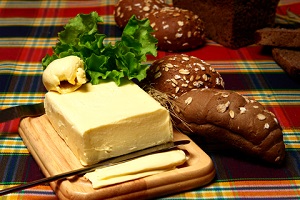 Natural Butter
This will greatly enhance absorption to help your body use more of these powerful nutrients.
Some great examples are small amounts of olive oil, grass fed butter, coconut oil (adds a hint of sweetness), grape seed oil, and minimally processed sesame oil.
This isn't one of those tips that's going make or break your plan, but over time, little "tweaks" like this can add up to make a big difference.
I'll be back tomorrow with more fast fat-loss tips…
In the meantime, make sure you check out this new approach to dieting, based on PROVEN research and millions of years of evolution.
It goes against everything you think you know about nutrition,breaks the rules and goes against many commonly accepted "truths".
For example, you'll discover…
1: Why breakfast is NOT the most important meal of the day.
In fact, you should skip it. 90% of Americans eat breakfast, yet 50% are obese. You'll discover a MUCH better alternative that fires up your fat burning and makes you feel great.
2: How you can feast every night at dinner and STILL wake up leaner.
Some say don't eat after 6pm. Research after research shows that meal timing doesn't matter (how great is that for your social life?)
3: How to say GOOD-BYE to the "6 meals per day" gospel.
There's no research out there that says increased meal frequency results in greater weight loss. I CAN work, but it's not necessary for success.
Karen and I have been using variations of this same approach for over two years now, so we know for a fact it's very effective:
==> The diet to END all diets: Feast your way to a flat belly?
This is easily the least intrusive diet plan you'll ever try. Plus it's based on science and addresses the most important aspect of losing stubborn stomach fat and getting a flat, attractive belly…
HORMONES.
Addtionally, you can pretty much eat whatever you want on this plan, you just have to be "smart" about it:
==> FEAST on carb stuffed meals every night and wake up LEANER
Keep going strong,
Shaun