Shaun loves it when I make the recipe below because the zucchini spirals taste just like pasta—but without all the fat storing carbs and calories.
Just one cup of raw zucchini contains only 3 grams of impact (i.e. non-fibrous) carbs, and it's a great source of vitamin C—providing 35% of the RDI per serving.
It's also a great source of potassium to improve digestion and reduce inflammation in the body.

Zucchini are also very easily digested since they're largely water, plus they also offer dietary fiber that can reduce constipation.
And although the shrimp is high in cholesterol, studies also show that eating dietary cholesterol has no link to heart attacks or strokes [1,2].
Shrimp is also a great protein source and very high in niacin, vitamin B12 and iron
One serving of shrimp also provides a hefty dose of selenium, a mineral that reduces inflammation.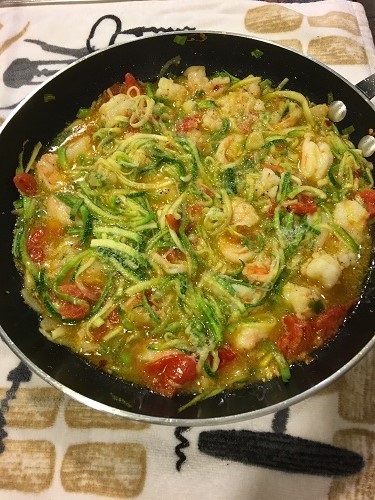 Additionally, shrimp is a great source of iodine (studies show a large majority of the population is deficient), which improves brain and thyroid function.

Healthy Low Carb Shrimp Zucchini Recipe

Ingredients
2 zucchini
1 pound peeled and de-veined wild caught shrimp, tails removed.  If large, cut in half
Freshly ground black pepper
4 tablespoons olive or coconut oil
1 cup grape tomatoes, halved
4 cloves garlic,  chopped
Pinch crushed red pepper flakes, optional
2 Tablespoons chopped fresh parsley
1/2 cup low-sodium chicken broth
Salt & pepper to taste
2 tablespoons chopped fresh chives
1 tablespoon raw Parmesan cheese

[pro_ad_display_adzone id="8825″]

Directions
 Note:  A Veggetti (hand held) or any other brand works best for spiraling zucchini.  If not, a potato peeler works as well.  If using a peeler, peel down only to where the seeds start.
Wash zucchini and cut off both ends.  Use Veggetti or peeler to make spiral ribbons.  Set aside.
Heat oil in a large skillet over medium-high heat. 
Add bullets:
Add the tomatoes, garlic, red pepper flakes and cook until the tomatoes have softened, about 3 minutes. 
Add shrimp and cook until pink on both sides, around 3 minutes. 
Add the zucchini ribbons, broth and parsley, and toss until warmed through, about 3 more minutes.
Season with salt and pepper. Divide among 4 bowls and top with the chives and raw Parmesan if desired.
This high protein, high fiber, low carb recipe is a perfect dinner to have on days where you're more sedentary or just doing some type of cardiovascular activity.
Enjoy!
Your friend and fat burning kitchen coach,
Karen
Dietary Cholesterol References:
1) http://www.fasebj.org/content/28/1_Supplement/267.6
2) https://www.ncbi.nlm.nih.gov/pubmed/26109578