If you enjoyed our recipe for Grass fed burgers with gluten free buns, you'll love this one.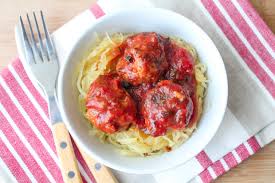 Make the gluten free buns from the "Karen's Delicious Burger and Fries" blog post
Here is the recipe again:
Gluten Free Flax-seed bun
Ingredients
Ground flax-seed (4 TBSP)
1 tbsp Olive oil
1 egg
Directions
Place ingredients in a muffin tin and bake at 350 degrees (bake for about 15 minutes.)  
Note: use an oven safe bowl with a 4" dimension bottom, muffin tin makes a small bun
[pro_ad_display_adzone id="8825″]
Meatballs: Ingredients and Directions:
Place the cooled buns in a blender and make bread crumbs. Add the bread crumbs to 2 pounds of grass-fed beef (or ground turkey)
Add salt/pepper
Form meatballs and bake in the oven at 350 degrees for approx. 20 minutes
Heat up homemade or (pre-made) gluten free sauce and add the meatballs. Simmer for about 5-10 minutes.
Pour over gluten free pasta or noodles and enjoy
Serves : 4
Karen