Fat Storage and Summer Do Not Mix

Oh boy, here we go….
It happens every year.
Summer.

Fat Storage and Summer …

And it just started recently. That means family, friends, fun in the sun, cheat food, and of course…a little alcohol. 🙂
So how in the world are we supposed avoid fat-storage???
Here are 2 sneaky tricks Karen and I use to STOP summer party fat storage, so we can still have a life AND stay lean.
Sneaky Trick #1: Use ANY type of intermittent fast to avoid fat storage
If you workout in the a.m. you can use a "warrior" type of fast (coined by Ori Hofmekler) by consuming a small protein and veggie based meal afterwards (or a time released, low carb nutrition shake with some whole fruit), then "fast" the rest of the day to save up your calories for the partying that will going on later in the day.
This will still give your body the nutrients it needs to preserve muscle after exercise, while "priming" your metabolism to want and need extra holiday calories AND carbs later in the day.
Make sure you avoid heavy starches early in the day to create more "room in your tank" for later and prevent energy crashes.
A second option is to use an intermittent fast all day long and then break your fast with a high intensity workout a few hours before the summer shindig.   
Sneaky Trick #2: Use some type of high intensity workout an hour or two before the summer party cheat hits.(And you'll avoid the dreaded fat storage…just make sure you use larger body parts like chest, back, and legs.)
This will set up your metabolic triggers for enhanced nutrient "partitioning." In other words, your cheat food will be stored inside muscle and liver tissue (instead of "spilling" over into fat storage) from the one-two punch of fasting AND exercise.
Karen and I are currently using "volume-depletion" training on days like today, when we have a party to attend, because it's efficient, it maximizes glycogen depletion, and it burns a TON of fat and calories.
Here's a example you can try in case you're not familiar with this type of training.
Volume-Depletion Training
1.    Perform triple sets: 3 sets of 10 reps, back to back, with no rest.
2.    Rest 60 seconds between triple sets for the first 6 triple sets, then you'll gradually reduce rest between each triple sets for the last 4 triple sets (see rest column for exercise #3 below for example)
3.    STOP summer party fat "spillover" (aka, fat storage)….Holla!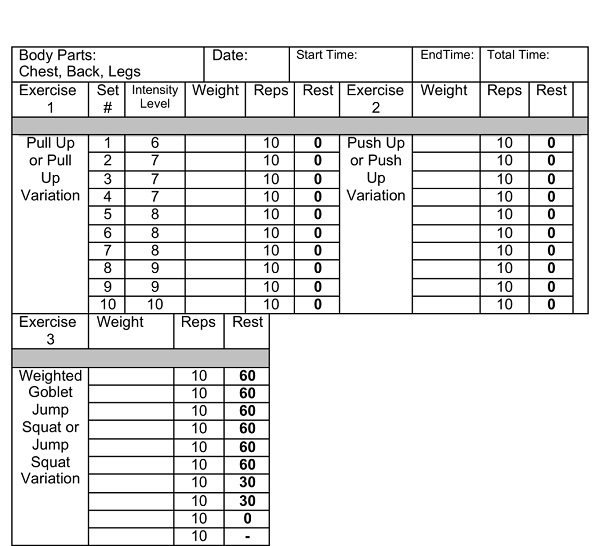 This type of training has several positive metabolic effects.
– Releases fat-burning hormones and creates a 24 to 48 hour "after burn"
– Rapidly depletes muscle and liver glycogen and "activates" GLUT-4 (glucose transporter that forces storage of calories into muscle and liver tissue instead of fat stores)
– Targeting larger body parts with a high volume of reps (or strides) in such a short duration taxes the muscles and stimulates more lactic acid – which is a precursor to releasing more growth hormone…
– Also, by working the larger "upper" body parts and/or the larger "lower" body parts, you'll get maximum whole body glycogen depletion…
There you have it…

TWO killer tricks to enjoy summer
without the fat storage.
Now you just have to make SURE you're getting a complete and comprehensive nutrition shake BEFORE you hit the party to stave off cravings and get adequate nutrition.
After all, "healthy" food is a rare commodity when it comes to summer parties.
That's why Karen and I always have a nutrition shake with:
1: Two scoops of BioTrust Low Carb
2: One scoop of Athletic Greens
Remember, 95% of ALL protein powders on the market are straight up ripping you off. They're junk.
They process their protein with HIGH heat and destroy everything good. Then they load them with artificial sweeteners and protein that's loaded with hormones.
PLUS, they contain zero grams of fiber, which can send your insulin levels soaring higher than a piece of white Bread.
AND they taste like crap! Just sayin'.
So do yourself a favor. Invest in REAL nutrition.
Things like BioTrust Low Carb and Athletic Greens may cost a little more than over-the-counter products…but your body and your health are worth it.
And your belly fat with thank you for it later. 🙂
Stop the fat storage and keep going strong,
Shaun
==> Do NOT buy another protein powder until you see this 6 minute video
Get TEN servings of fruits and veggies along with all your vitamins, digestive enzymes, probiotics, and greens…all in ONE spot: