The Fat Loss Food Pyramid
Today's new video uncovers a brand new fat loss food pyramid.
In this 3 part series I uncover how you can literally maintain a fat burning environment round the clock 24/7.
Just follow this quick tip and you'll maintain high energy – fat burning environment from sun up to sun down.
Speaking of 24/7, what if you could burn fat twenty four hours a day…every day?
Do you realize how much faster you'd progress?  How much more quickly the fat would melt away?  How much more rapidly you'd have the body you want?
That's right, A LOT faster.
And if you want to learn exactly how it's done, then I have some great news for you. My buddies Joel Marion and Craig Ballantyne just posted a brand new article that reveals 3 MORE reasons you're not burning fat 24/7.
Just go here after watching today's short vid and check it out their latest 24/7 Fat Loss VIP Access Update.
You'll see Craig (or should I say "Crabby Craig" haha) in his "protective crabby mode". He's really a great guy who knows hit shizat…he's just a little shy on camera.
3 MORE Reasons You're Not Burning Fat 24/7 <<== clicky click
Enjoy the fat burning goodness!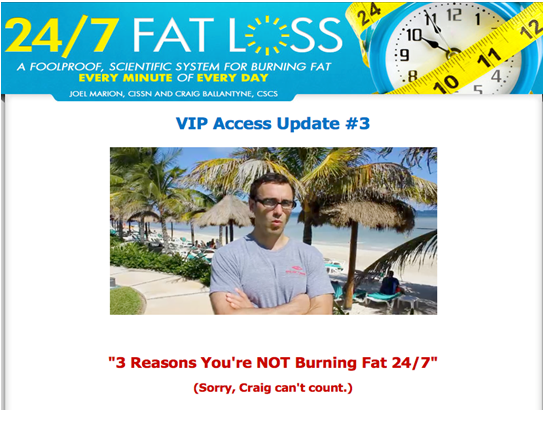 Make it a great day,
Shaun