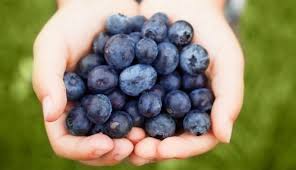 Summer is the time for bar-b-ques, beaches (if you can get to one), and let's not forget — blueberries!
Blueberries are probably one of the best anti-oxidant fruits ever created.
The health benefits include the reduction of health risks for diabetes, heart disease and obesity.
They contain a special nutrient called anthocyanins, which are responsible for giving that deep blue hue to fruits and veggies (think eggplant).
[pro_ad_display_adzone id="8825″]
The list of benefits from BLUEBERRIES seems almost unending:
Maintain healthy bones because of its calcium, magnesium and Vitamin K
Lower blood pressure because of its potassium
Ward off heart disease because of its Vitamin B6 and folate (which prevents the buildup of a compound known as homocysteine, that damages blood vessels)
Prevent cancer because the anti-oxidants protect cells of free radical damage, inhibiting tumor growths and decreasing inflammation
Reduce the risk of cognitive decline like Parkinson's – a neuro-degenerative disorder.
Helps prevent constipation, because its high fiber helps reduce appetite and helps you lose weight
And if that's not a long enough list for you, how about:
A fantastic wrinkle reducer and collagen enhancer… this is what makes your skin look elastic and prevents sagging.
Blueberry Blast Shake

Ingredients:
1-2 scoops of vanilla whey protein powder
8 ounces of water or coconut milk
4-6 ice cubes
20 blueberries

Directions:
Pour cold water or coconut milk in a blender. Then add vanilla protein powder and blend for 20 seconds.
Add blueberries and blend for 30 more seconds. Add ice cubes and blend on high until creamy and smooth about 30 more seconds.
Pour into a tall glass and enjoy all the heart healthy, cancer fighting goodness!
Karen