Cauliflower Crust Egg Cups
Makes 12 cups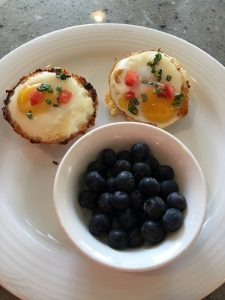 Ingredients
2 heads of cauliflower, steamed
2 c. shredded raw cheddar cheese
14 eggs
1 tsp. sea salt
Ingredients of your choice for filling (chopped tomato, basil, chives, etc.)

[pro_ad_display_adzone id="8825″]
Directions
Preheat oven to 375 degrees.  Lightly grease a 12 cup muffin tin
Put steamed cauliflower in a food processor and pulse until it looks like rice.
In batches, put cauliflower between paper towels to get out the excess liquid.  You will have to do this a few times until dry.
Transfer to a bowl and add the cheese, sea salt and 2 of the eggs.  Stir to combine.
Evenly distribute the mixture between the muffin tins and press with fingers to form a bowl.
Bake for 20 minutes.
Add ingredients of your choice being careful not to add too much.  Crack one egg over the tins without breaking the yolk.
Bake for approximately 15 minutes.
Enjoy!!
Karen