My wife Karen made a big confession about one of her biggest food addictions to me the other day without even knowing it.
She admitted that her and Alyssa (my step daughter) finished off a whole box of Wheat Thins and an entire bag of Goldfish (the little orange cracker) recently.
(She's probably going to kill me for telling you this…haha, but it was a cheat day.)
"I couldn't stop eating them and I knew I had to get them out of the house." She confessed.
"Exorphins." I gasped.
"Ex-What?" Karen replied.
I then proceeded to let her know that when gluten, found hidden in wheat and almost every other processed food, hits your stomach — it's broken down into a polypeptide.
These gluten polypeptides can actually penetrate the blood brain barrier where they "bind" to your brain's morphine receptor, the very same receptor that opiate drugs bind to.
In other words, ANY type of foods that contains wheat gluten can be as addicting as heroin.
In fact, Dr. Christine Zioudrou (named in the book Wheat Belly) has coined these addicting polypeptides "exorphins", short for exogenous morphine-like compounds.
Bottom line: Stay AWAY from any and all gluten whether it's whole grains from wheat or other processed foods like "healthy" cereals and granola bars.
All these foods send your blood sugar sky high and get  you "high", just like opiate drugs.
Not to mention the inflammation, the "pooch" belly, and all the other energy draining side effects that come along with eating less than one miniscule drop of hidden gluten.
But avoiding wheat and processed foods only fixes HALF the problem because traditional "gluten free" diets do not work like they should.
As a matter of fact, one of my colleagues and friends Dr. Peter Osborne has done multiple research studies proving this time and time again.
92% of his patients following a traditional gluten free diet were still unknowingly consuming gluten.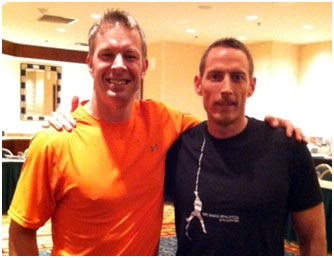 That's why he created, The Gluten Free Solution.
Patients following Peter's protocols experience some remarkable improvements, almost overnight:
– Better energy
– Fast fat-loss- Improved digestion
– Elimination of bloating and chronic gas
– Reduced muscle and joint pain
– Properly balanced hormones
– On and on…
That's why I told my wife to get out Peter's stuff again and look through it.
I told her, "The guy is a genius and you'll probably be blown away by how many foods contain hidden gluten."
In fact, Dr. Osborne has listed over twenty of them right here on his website along with a complete solution to the gluten epidemic:
==> Over TWENTY everyday foods that contain "hidden" gluten <— short list
At the link above you'll discover exactly why 92% of all gluten free diets FAIL along with a breakthrough system that destroys the toxic effects of gluten and is guaranteed to make your belly flatter.
If you've tried it all, but you still have belly fat or a protruded "pooch" belly, there's no doubt the root cause could be hidden gluten and "exorphins"…
And you'll probably be eating them THIS weekend.
Eliminate them from your diet now and completely heal your body.
Even if you "think" you're eating healthy, you can't afford to miss this info.
==> Why 92% of all gluten free diets FAIL (how to be 100% TRUE gluten free)
Keep going strong,
Shaun