A Really Cool Food Swap You Can Use Right Now
Now that summer has officially come to an end, it's time to get re-focused on diet and exercise.
We're jumping right back into a disciplined regimen of macro-patterning and making some big changes to the food we consume on a regular basis.
The first thing we do is some serious food swapping in our kitchen.
The first swap is rice for quinoa.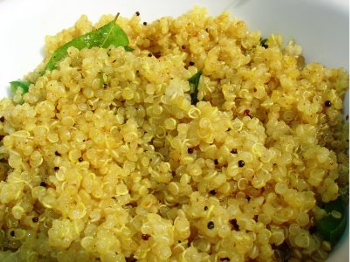 Quinoa is an African grain that is a complex carb, but has a much healthier impact on blood sugar than rice does. Plus, it's also the only grain that is a complete protein.
To simplify things, just remember this:
White rice = Poor choice
Brown rice = Good choice
Black rice = Better choice
Quinoa = BEST choice
White rice is the poorest choice, but is not the devil. Brown rice is OK because it has a little more fiber. Black rice is even better, but we're swapping all of them for quinoa.
And by the way, not only is it high in fiber – it tastes great too. If you want to learn more about the history of this grain like crop, you can go here: http://en.wikipedia.org/wiki/Quinoa.
Is substituting quinoa for rice going to all of a sudden make you lose more weight tomorrow? Not necessarily.
BUT, when you make "little" changes like this in every area of your kitchen, they can add up to make all the difference.
So here's the deal.
We thought it would be cool to blog about our dietary changes over the next several weeks and we're hoping you'll join us and participate in the comments section.
Just post your thoughts below and we can help give each other with tips like this one to stay on track.
In the meantime, give this food swap a try. We'll be back in a few days with an update on our progress and another unique food tip to help you with your fall fat loss plan.
Committed to helping you get fit for fall 2010 and beyond,
Shaun and Karen
P.S. We actually learned about quinoa from our fat burning friend Isabel. If you want to learn how to use tricks like this in EVERY area of your kitchen and fat loss plan then you're in luck.
She put together a really cool free video where she shares a bunch of these techniques for *free*.
Fat burning food swaps video and other diet solution tips <—— Click Here
Lastly, if you're feeling a little "off kilter" after the summer and holiday weekend, you're not alone. We feel off balance too!
That's why we always pull our GL-12 Circle of Life out of the vault and re-align our goals and priorities.
THIS will get you right back on track in less than 5 minutes <—— Circle of Life PDF