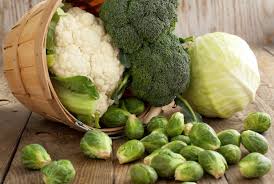 Most of us know how important cruciferous veggies are. They include cabbage, cauliflower, radishes, broccoli, kale, etc.
The conventional wisdom used to be the if you ate these veggies raw you would get far better benefits. Not anymore.
A study out of the Fred Hutchinson Cancer Research Center1 in Seattle, WA conducted a study on cruciferous* veggies and gut bacteria.
Participants rotated the following 4 diets:
1) A very poor diet containing only 9 grams of fiber and no veggies and fruits
2) A little better diet including 2-3 cups of cruciferous veggies
3) A higher quality diet with 4-6 cups of cruciferous veggies and 29 grams of fiber
4) A mixed diet with 2-3 cups of cruciferous veggies and 1-2 cups of other veggies (non-cruciferous)
While these participants rotated through the 4 diets researchers looked at the gut bacteria.
They discovered that:
– All participants had totally different strains of bacteria
– The gut bacteria changed dramatically depending on the diet that the participant was on at any given time.
– When the participants ate the cruciferous veggies (diets 3 & 4) (cooked or raw) the population of gut bacteria dramatically increased.
– These cruciferous veggies need not be raw all the time; lightly steaming them is as beneficial as raw.
*for this study the cruciferous veggies were:

Broccoli 45% (cooked)
Cauliflower 35% (cooked)
Cabbage 16% (raw)
Radishes (4%) (raw)
[pro_ad_display_adzone id="8825″]
So the take-home message is this: Get your 5-6 cups of raw or cooked veggies daily and enjoy healthy gut bacteria which will promote a stronger immune system and better weight loss.
Keep going strong and eat your greens!
Shaun
Reference:
1 Fei li, et.al., Human Gut bacterial Communities are Altered by Addition of Cruciferous Vegetables to a
Controlled Fruit and Vegetable Free Diet. J. Nutr., 2009 Sep 139(9): 1685-91