APRIL FOOLS !!!!
Did you really believe Sugar would give you better health, greater fat loss and make you feel younger…?
Sugar takes a devastating toll on your health. Excessive sugar consumption is the largest contributor to obesity and chronic disease in this country.
What exactly makes this simple and sweet ingredient pack such a sinister punch?
Sugar is made up of glucose and fructose. Glucose is the fuel your body needs (every living thing on earth, including bacteria, needs glucose for energy, but the problem is not the glucose; it's the fructose. Table sugar is 55% fructose and 45% glucose.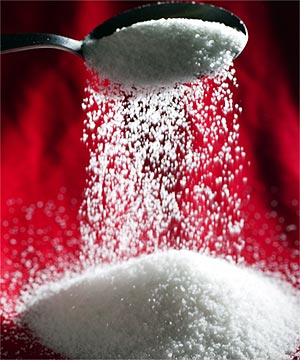 Your body metabolizes fructose much differently than glucose. Fructose doesn't go through the normal channels; instead, your liver metabolizes it.
Here, excess fructose is quickly converted into fat, which explains the weight gain, especially in the abdominal region (or the dreaded belly fat).
High fructose corn syrup (HFCS) is the primary cause of non-alcoholic fatty liver, elevating uric acid, which in turn raises your blood pressure, stresses your kidneys, and leads to chronic, low-level inflammation.
Inflammation is at the center of most chronic diseases. In other words, fructose is alcohol "without the buzz."
In the 1700s, the average person consumed 4 pounds of sugar a year (around 15 grams of sugar)
In the 1800s, the average person consumed 18 pounds of sugar per year.
In the 1900s, the average person consumed 90 pounds of sugar per year.
Today: ¼ of our population eats ½ pound a sugar PER DAY… That's 182 pounds of sugar per year, or 225 grams of sugar per day!
The following are just a few sweeteners on the market:
Sucralose (Splenda) is NOT a sugar. Its sugar-like name is deceptive. In its advertising, the slogan "made from sugar" is there to deceive the public. It's a chlorinated artificial sweetener. More studies are needed, but it looks like if you do eat this, you need to take a probiotic.
Honey is about 53 percent fructose, but it is completely natural in its raw form and has many health benefits (when used in moderation), including possessing as many antioxidants as spinach. (Read again: USE IN MODERATION)
Agave syrup, HIGHLY processed and is usually 80% fructose.
Stevia is a highly sweet herb derived from the leaf of the South American Stevia plant, which is completely safe (in its natural form).
Lo han (or luohanguo) is another natural sweetener, but derived from a Chinese fruit called Monk Fruit.
Artificial sweeteners like aspartame, neotame, saccharin, Equal ==> AVOID AT ALL COSTS![pro_ad_display_adzone id="8825″]
We recommend that if you are going to eat sweets, make your own and sweeten them with Stevia. It will not increase your glucose levels nor mess up your hormones.
According to a study1 published by Reuters, if you eat 18% of your total calories coming from sugar you will double your risk of getting diabetes.
So on a 2,000 calorie diet (per day), that's 360 calories of sugar or 2 fruit juices per day… or a single Starbucks Mocha Frappuccino.
But it gets worse. If 25% of your calories come from sugar, you have now doubled your chances of dying from Coronary Heart Disease (CHD), the number 1 killer in this country.
Shaun