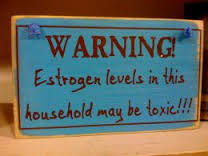 Estrogen dominance is a term that describes a condition where a woman can have deficient, normal or excessive estrogen, but has little or no progesterone to balance its effects in the body.
Even a woman with low estrogen levels can have estrogen dominance symptoms if she doesn't have enough progesterone—making it nearly impossible to burn belly fat.
After Karen's cancer journey her gynecologist told her she has "too much estrogen" so she started using bio-identical cream to avoid synthetic hormone replacement.
Outside of seeking professional medical advice, there are several different ways you can decrease estrogen dominance.
#1) Modified Paleo Diet: Limit processed food, but things like organic steel cut oats, Ezekiel™ sprouted grain bread, and quinoa are acceptable for active women…
#2) Liver support: proven ingredients like milk thistle acts as an anti-inflammatory in the liver, which can assist the liver in cleansing estrogen out of the blood…
#3) Eat more fibrous veggies: you excrete estrogen from the bowels, so if you don't get enough fiber it can be "reabsorbed"—instead of removed…
#4) Decrease stress: for women this means investing time and energy in YOURSELF (I recommend exercise followed by quiet time for gratitude first thing when you wake up)…
#5) Strategic Exercise: especially the type that's designed to work in tandem with the dramatic hormonal shift that takes place inside your body after turning 35 years old…
[pro_ad_display_adzone id="8825″]
The truth is, millions of women suffer from Estrogen Dominance without even knowing it, and hormone disruptors found in cosmetics, plastic containers, unfiltered water, or pre-packaged diet foods can make it even worse.
Fortunately, there is a "fountain of youth" metabolic trick that you can use a few days of the week in the morning (or before going to bed) to decrease estrogen dominance and "reawaken" your fat burning hormones…
It takes just 12 minutes and it's especially effective for women who have more than 10 pounds to lose.
Here's how you can SEE your belly get flatter and firmer in the next 48 hours helping you eliminate your "menopause belly" once and for all…
"Reawaken" Female (and male) Fat Loss Hormones in Only 12 Minutes
Keep going strong.
Your friend and coach,
Shaun