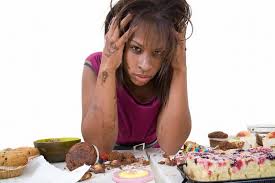 Depressed?
Turns out running to "comfort food" often isn't as comforting as you may believe.
Several recent studies have shown how eating junk food is linked to depression.
Surprised?
You shouldn't be. The Public Health Nutrition journal has stated that compared to NON-fast food consumers, those who eat 'junk foods' are 51% more likely to develop depression.
Not only that but the more heavily processed, sugar-laden foods you eat, the worse the level of depression. The study goes on to say that "even eating small quantities is linked to a significantly higher chance of developing depression."1
The study consisted of 8,964 participants that had never been diagnosed with depression or taken antidepressants. They were assessed for an average of six months, at the end of which 493 had been diagnosed with depression or had started to take antidepressants.
One possibility is that the over-consumption of sugars and refined starches is a risk factor for inflammation and cardiovascular disease, and both of these have been linked to the development of depression.
This kind of diet could also lead to insulin resistance, which has been linked to cognitive deficits similar to those found in people with major depression.
[pro_ad_display_adzone id="8825″]
In another example, a research team from the University College of London2 lead by Dr. Tasnime Akbaraly used data from a large study that followed many social, lifestyle, work and health factors in a group of over 10,000 Britains.
Dr. Akbaraly's team focused on evaluating whether what people ate affected their chance of becoming depressed. By using a questionnaire, the researchers found out that those who ate more of the whole foods (or less of the processed foods) were less likely to become depressed.
And in a third study, the investigators reported that participants with an elevated consumption of trans-fats found in processed baked goods and fast foods had up to a 48% increase in the risk of depression compared to participants who didn't eat these foods.
The researchers also found that those participants whose diets contained more olive oil and fish were at lower risk of depression.3
While there are many theories about mood disorders, the actual causes of depression remain unclear. Depression may represent just one manifestation of increased inflammation throughout the body.

The good news is that the Mediterranean diet is linked to the lowest risk of developing depression. Specifically, this type of diet is high in olive oil, omega 3s,  and B vitamins.
The Mediterranean diet consists of fish, whole grains, healthy fats (olive and avocado oils) and tons of vegetables (5 to 10 servings or about 5 cups of cooked veggies).
Keep thinkin' and eating well!
Shaun
References
1 http://time.com/3939974/sugar-junk-food-depression/
2 http://www.depressiontoolkit.org/news/junk_food_blues.asp
3 http://www.drweil.com/drw/u/QAA400895/Can-Junk-Food-Cause-Depression.html