Hungry all the time? Want to eat LOTS of food (carbs!) and NEVER store it as fat?
I reveal the first cornerstone of the fat loss pyramid and discuss why meal timing needs to be a crucial component in your nutrition plan to burn fat and lose weight.
Hey everybody, so I have a cool new video for you that I think you're really going to get something valuable out of.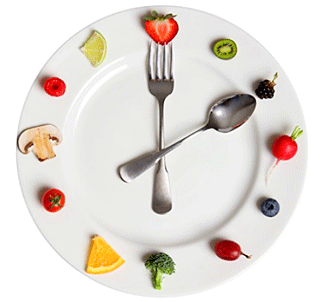 It's all about the NEW food pyramid.
This food pyramid equals faster fat loss!
Now the traditional food pyramid is obviously failing miserably – if it worked, we wouldn't have sixty percent of the population here in the United States overweight.
And we wouldn't be dealing with an obesity epidemic.
So if you follow this fat loss food pyramid, not only are you going to be able to maintain optimal health, you're going to put your body and metabolism into a fat-burning environment around the clock, 24-7!
This pyramid is an upside triangle, so you'll immediately notice it's a lot different than the traditional food pyramid.
The First Cornerstone of the Fat Loss Pyramid
Today I'm going to talking about the first cornerstone of the pyramid / triangle, which is timing, specifically meal timing.
I want to talk about the myths of meal timing.
The predominant school of thought here is that we have to feed our bodies every 2.5 to 3 hours because we have to treat our metabolism like a fire.
So if we don't add a log to the fire every couple hours or so, we risk our metabolism "fire" burning out, or slowing down from a metabolic perspective.
However, there are multiple studies and a great deal of newer research that proves your metabolic rate will not slow down for up to 36 hours of fasting.
So you could literally be in a fasted state of eating nothing at all for 36 hours before your metabolism slows down.
Now I don't recommend that because you're going to put your body into a catabolic state and you're going to end up using muscle as fuel.
But it does prove the point that eating every 2 to 3 hours is not necessary to keep your metabolism revved up.
The Role of Insulin in Storing Fat
Now there's something else that forces your body into a fat-storing environment if you eat every 2 to 3 hours, and that is the hormone insulin.
See, every time you eat a balanced meal, you elevate insulin for about 3 to 4 hours.
And in the presence of high insulin levels, we might be able to build muscle and have elevated energy, but what'll happen is we take our body out of a fat-burning environment and turn it into fat-storing mode.
This is because it's impossible to burn fat when insulin levels are elevated.
So if we're eating every 2 to 3 hours and as a result our insulin levels are elevated for 3 to 4 hours, we're going to end up stuck in a perpetual fat-storing environment.[pro_ad_display_adzone id="8825″]The solution to this is to feed your body every 3.5 to 4 hours instead.
What this will do is allow insulin to come down in between meals, and now throughout the day you're maintaining stable insulin levels.
This will allow you to maintain a metabolic environment where your body can consistently access and use fat as fuel.
And this allows the fat that you're continuing to eat to help provide a steady stream of amino acids to the muscle tissues so that you maintain an anabolic environment and you don't use muscle as a fuel source.
What It Really Boils Down To Is…
Now all of this said, what this really boils down to is adherence – in other words, if you can't stick to a plan, what good does it do anyways?
So the last couple years, I moved from consuming 6 or 7 small meals a day to four larger meals.
Now, a couple things happened when I did this.
First, it didn't reduce my results at all. In fact, I think the results got better.
Second, I didn't have to deal with the nagging burden of having to constantly eat six or seven times a day, so I saved more time and was able to get more done.
It also meant every time I sat down for a meal, I could have larger portion sizes, so that I actually now end up feeling more satisfied — i.e. less hungry between meals.
Now, if you like this trick, you're going to love what I have for the second cornerstone, which is all about combinations.
And then the third one, which is the most important one – without it, the rest of the food pyramid begins to collapse – we'll talk about a bit later as well.
So check back next week when we cover how using the proper food combinations is the second key on the fat loss pyramid to maintain a fat-burning environment around the clock, 24-7.
Your fat loss friend and coach,
Shaun