Magnesium is a mineral responsible for over 300 enzymatic reactions in your body. How do you know if you are deficient?

 The actual magnesium content of produce grown today is drastically lower than in pre-industrial times, and varies widely depending on farming practices, quality of soil, and storage and transportation methods. In fact, Magnesium content in vegetables has been declining from 25-80% since pre-1950 figures.

Refined oils remove all magnesium. For example: Safflower seeds, for example, contain 680 mg of magnesium per 1,000 calories. But Safflower oil on the other hand, lacks magnesium entirely.1
Refined sugar removes all magnesium. Molasses, which is removed from the sugar cane in refinement, contains up to 25% of the RDA (recommended daily allowance) for magnesium in one tablespoon. Sugar has none.
[pro_ad_display_adzone id="8825″]
How do you know if you are deficient?
Magnesium (Mg) deficiency symptoms:
-Constant headaches (whether migraines or tension headaches your muscles need to relax. Magnesium deficiency is correlated with headaches.)
-Osteopenia or osteoporosis is a sign of a magnesium deficiency. Do you get injured easily? If your calcium is not being absorbed that means your magnesium levels are not high enough to allow for the absorption of Mg.
-Muscle cramps: most think it's a deficiency in potassium and that may be the case but more than likely it's a magnesium deficiency.
– Imbalance in blood sugars (pre-diabetes/Diabetes) — low energy levels. Adding Magnesium will improve blood sugar levels
– High blood pressure is also a sign of magnesium deficiency
– Do you drink a lot of carbonated drinks? These contain phosphates which bind with magnesium inside the digestive tract. You are leeching Mg with every can of soda you drink.
-Anxiety or depression
-Constipation (irregular bowel movements). Intestinal muscles need to relax for daily bowel movements. Mg deficiency will not allow this.
-Do you eat  a lot of refined sugars or caffeine..these foods cause the body to excrete magnesium through the kidneys.
Magnesium levels are controlled in the body in large part by the kidneys, which filter and excrete excess magnesium and other minerals. But caffeine causes the kidneys to release extra magnesium. If you drink caffeinated beverages such as coffee, tea and soda regularly, your risk for magnesium deficiency is increased.
Foods with high magnesium levels:

Dark leafy greens, nuts, seeds, fish, beans, whole grains, avocados, yogurt, bananas, dried fruit, dark chocolate, and more.  But bear in mind  that it all depends on the quality of the soil. So an easy fix could be supplementing with Mg.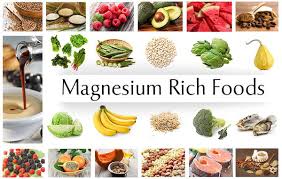 Supplements: Magnesium chloride (or Chelated magnesium) is the best form because it's the most bio-available ( or easily absorbed).
To know for certain how deficient you really are you'll have to take a blood test. Stay away from the serum test where your blood's magnesium levels are tested.
Why? Because your blood has to have certain levels of magnesium at all times. and if it cant find enough, it will take it from your bones. The actual test to take is on a cellular level. Ask your health care professional.
Well I am off to search for some dark chocolate, what Magnesium rich foods are you going to try tonight?
Shaun
1 Seelig M, Rosanoff A. The Magnesium Factor. New York: Avery; 2003.