Coffee for Weight Loss? Read on…
I'm sitting here on the porch of a hunting cabin in Northern Michigan listening to the birds chirp while I sip on a delicious cup of "super-charged" coffee.
Hold on…"slurp" "slurp" …Yum.
Ok, I'm back.
Now this isn't just ANY coffee. It's actually loaded with some super healthy, energy boosting ingredients that support fat-loss.
But before I reveal this delicious concoction, let's quickly cover the good news about coffee…and the bad news about coffee for weight loss.

Coffee for Weight Loss?
The Good News About Coffee for Weight Loss

Plain, black coffee can potentially help enhance the process of liberating fatty acids before a workout.
It does this primarily through the naturally occurring caffeine, which has been shown in multiple studies to increase focus and even assist in the process of fat-burning during exercise.
Solid research indicates caffeine can also increase the absorption of post workout carbohydrate intake. I find this very interesting.
A brand new round of studies is making its way around the Internet right now touting the claims of coffee intake for disease prevention and increasing life expectancy.
I haven't done much research in this area, but considering my love for coffee, it definitely intrigues me.
HOWEVER, if you abuse coffee, or you constantly put a bunch of crap ingredients in it …there can be a big downside to coffee if you're not careful.
(Karen and I solve this problem for you below with our delicious fat-burning coffee recipe.)
The Bad News About Coffee For Weight Loss

Most folks drink way too much coffee or add artificial creamers and sweeteners that contain unhealthy ingredients, which can impact insulin and act as "obesity triggers."
Additionally, any type of excess caffeine intake can wreak havoc on the adrenal glands and create a very acidic environment inside the body.
There's no doubt this will slow down your fat-loss if not monitored properly.
Coffee Guidelines for General Health and Fat-Loss
Feel free to have a cup or two per day, but try to avoid artificial sweeteners and creamers that have sugar and preservatives.
If you want to drink coffee before your workout, and your goal is fat-loss, I recommend using straight black coffee. A little bit of organic, liquid stevia is ok…but try to go black before exercise.
I personally drink one cup of straight black coffee when I'm driving to the gym in the morning, and then have the recipe below later in the morning for a total of 2 cups a day.
I usually follow this routine about 4 or 5 days a week to keep my adrenals fresh.
Karen works out later in the day, so if she's not intermittent fasting, she drinks the recipe below when she wakes up and has her "alone time."
At first glance you might think this recipe sounds weird.
But don't knock it til you try it.
Here are the ingredients…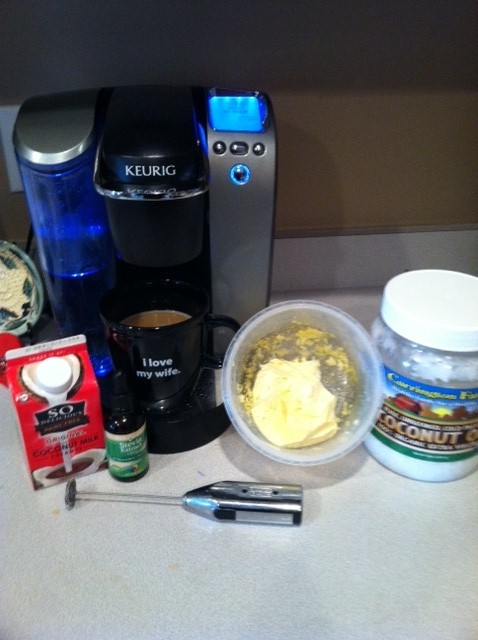 1: Coffee of your choice
Note: Most over the counter coffees are contain a lot of toxins, which makes them very "acidic."  You obviously don't have to go organic, but it's recommended and growing fast in popularity.
2: Coconut Oil (a teaspoon all the way up to one tablespoon depending on your preference)
Coconut oil contains 66% "healthy" saturated fats in the form of fast burning medium chain triglycerides (MCTs). Because of their molecular structure, MCTs are more readily available as an energy source than other fats so they're quickly burned off.
MCTs have also been shown to help increase protein absorption and promote more efficient fat oxidation.
3: Coconut Milk or Healthy Coconut Creamer (use small amounts only…tablespoon or so)
This is really optional because it's mostly for flavor, but still adds a small amount of friendly fats.
4: Grass Fed Butter (1 teaspoon max because of the strong flavor)
I know this may seem "out there," but it's unbelievably yummy. Seriously. It makes the coffee creamier and provides "all-natural" vitamin D along with fat-burning CLA (another friendly fat).
5: All natural Stevia (optional…for sweetness but do NOT use Stevia in the Raw)
6: BioTrust Low Carb for added protein and better balance (optional…one teaspoon of chocolate makes it taste like a creamy mocha…YUM)
Directions:
– Place coconut oil, coconut milk/creamer, grass fed butter, and stevia in the bottom of your favorite coffee cup.
– Pour a hot cup of coffee on top of all the ingredients so it begins to melt. If you have a Keurig (or something similar), let the coffee brew into the cup on top of all the ingredients.
– Optional: Use a coffee frother, like the Aero-Latte pictured above. This REALLY helps make it super creamy and mixes everything together nicely.
This recipe makes for a perfect sweet treat on a deplete day because of the protein and all the friendly fats.   And you get all the added benefits of the nutrition along with
an energy boost.
Ironically, if you go to Starbucks (I call it "five bucks") you'll be doing the exact opposite. Even if it's black, it still makes your body VERY acidic.
In fact, the coffee ingredients listed above contain exactly what you need to "turn on" your fat-burning genes and keep your metabolism in fat-loss mode.
If you'd like to discover five more foods that can literally "shrink" your fat cells, check this out:
==> 5 foods that literally SHRINK your fat-cells (eat more of these starting now)
Until Tomorrow,
Shaun
Please share or "like" us