Cheat Day Strategy That Burns Fat (not stores it)

Yesterday I uncovered the legit reasons to use cheat days and cheat foods for faster fat-loss.
Remember, even though cheating can be fun, it can also be a double-edged sword if you're not careful.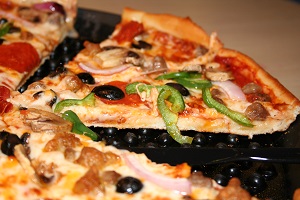 Cheat Day Pizza….mmmm!

The goal is to cheat long enough to get it out of your system and reward yourself, while metabolically triggering what your body needs physically and mentally.
So here are 3 things you should NEVER do when you eat cheat food:
1. Drink lots of alcohol before your cheat meals.
Make sure to avoid a lot of alcohol when cheating. This can mess up the metabolic and hormonal effect you're trying to accomplish.
The best approach is to eat at least ONE good cheat meal before drinking booze.
Give it a few hours to digest, replenish glycogen (energy), and reset your hormones…
…THEN go have your cocktails and indulge.
2. Eat lots of deep fried foods and high fructose corn syrup (HFCS).
Deep fried foods are basically void of any nutritional value and therefore don't provide any metabolic or hormonal benefits for the cheat. Some research also indicates HFCS can potentially block or negatively impact circulating leptin levels, while decreasing leptin sensitivity.
Again, it's a cheat day so you don't have to get anal, but little tricks like this can really help.
3. Skimp on water intake.
Make sure you plan for extra water the day of AND the day after your cheat day.
Remember, for every gram of carbohydrates you consume on your cheat day, your body will hold nearly an extra 3 grams of water.
That's why you hear people always talking about "carb-bloat" the day after cheat day.
Water early in the morning on your cheat day and the morning after is great damage control to get you back on track.
Oh ya, make sure you have a bathroom nearby.
You'll be making your trips to the bathroom part of your exercise plan for the day, but it's worth it. 🙂
So hopefully this gives you some insight on how to apply your cheats properly.
Before your cheat day you can specifically create the ultimate environment for a healthy food bender.
After your cheat day your metabolic pump is "primed" for super fat loss.
You just gotta know what to do the OTHER 6 days of the week.
And that's where my good friend and nutritionist, Josh Bezoni comes in. At the link below he reveals what I consider One of the easiest step-by-step meal plans on the planet:
==> The PERFECT diet for rapid fat-loss (exactly what to eat meal-by-meal )
Talk soon!
Shaun
Please Share or "like" us!