[Part 4: Real Nutrition]
Modified Paleo/Caveman Carb Timing Strategies
for Faster Fat-Loss
Ok, welcome back to part 4 of this new blog series that focuses on how you can modify the Paleo/Caveman type of approach to increase fat-burning and prevent plateaus and/or metabolic slowdown.
The feedback on these articles has been AWESOME. I'm glad you're enjoying it.
In the first 3 posts, I busted a few huge nutrition myths about the Paleolithic way of eating.  Again, I'm not "hating" on this approach, I'm just exposing its weaknesses and helping you overcome its shortcomings.
This is some critical info for you to understand for the long term fat loss haul.
Like why pure glucose molecules from all-natural white starches (like white rice and potatoes) are actually better than low glycemic choices IF you're exercising consistently and you want to burn more stomach fat.
Before we get to today's killer content, here are the first 3 posts in case you missed all the weight loss myths I "busted":
Part 1: The HUGE problem I see with the Paleo/Caveman approach
Part 2: The truth about potatoes and white rice (not what you think)
Part 3: Why you should DUMP low glycemic carbs for FASTER fat loss
Without further do, let's talk about how to time, combine, and prepare starches (especially the white ones) and fruits for a healthier metabolism and increased fat-burning.
Trick #1: Carb Timing
This is a biggie.
If you screw this up consistently, you'll be scratching your head wondering why your belly isn't shrinking.
First up – Good:
A good time to consume these types of starches or fruits is first thing in the morning or upon waking up because your insulin sensitivity is higher than other times of the day.
Just make sure you never eat em' by themselves. More on the right combinations below.
Next up – Better:
An even better time to consume white starches and fruits is a few hours before high intensity resistance training (MRT, bodyweight circuits, or metabolic circuits) or a heavier weight training session.
This will ensure that these carbs are used as energy during and after the workout to avoid fat-spillover – and provide sustained energy throughout the workout.
Last up – BEST:
The best time to consume pure glucose polymers from rice and potatoes (and even fruits like bananas) is in your post workout anabolic window of opportunity, which is anywhere from 1 to 3 hours after high intensity training.
In fact, if you work out late at night you could actually consume your LARGEST carb serving of the day right BEFORE bed and not worry about fat spillover.
Remember, when you work out intensely enough you'll set off several powerful metabolic triggers no matter what time of day it is:
Accelerated depletion of muscle glycogen
Stressing of creatine phosphate stores
Release of catecholamines (fat burning hormones)
The end result ends up being increased fat loss and something called "super-compensation" through stimulation of Glut 4 (a glucose transporter).

This effect simply means storage capacity inside your muscles and liver that's well above normal levels, and this is greatly enhanced during the post workout window.
Other benefits include increased insulin sensitivity, glucose uptake, and glycogen synthesis. Again, under these conditions your body will store carbs (and other macro-nutrients) at a much faster and higher rate than normal.
This is why I recommend consuming the majority of your carbs in your post workout meals on resistance training days.
Regardless if your goal is fat loss, strength, performance, energy, improved health or anything else, it's still critical for you to understand the process of nutrient timing.
And even though I always like to focus on rapid fat loss, you can benefit from comprehending how nutrient timing works for disease prevention and your overall health as well because it helps improve insulin sensitivity.
Trick #2: Carb Preparation
This one is short, sweet, and should be very obvious.
Steam your rice and bake your potatoes. Don't fry them or douse them in tons of oil. In fact, the LESS ingredients you use with these starches, the better.
They can work their magic best when eaten in their most natural form.
Of course, fruits should be eaten as whole fruits with the skin (not skins that you peel of course..haha). It should go without saying you shouldn't eat fruit from a can (nasty!) and you should always try to go organic or buy directly from a local farm when possible.
Today's farming has dramatically increased pesticides inside and on the outside of fruits…and the depleted soil from the years of abuse has dramatically lowered the nutrient quality as well.
Unfortunately chicken fried rice, a loaded baked potato, and fruit cobbler (yummy!) aren't part of this strategy. lol.

Save them for your cheat day.
Trick #3: Carb Combining
Food combinations are another HUGE aspect of sustained fat-loss.
Consistently combining your foods the right way is what will help KEEP your body in a fat burning environment.
There's a lot of debate about how to combine foods, but I've always focused solely on keeping blood sugar and insulin stable throughout the day.
This not only enhances your body's ability to consistently use fat as fuel, but also promotes overall health and general well being. If you learn how to keep blood sugar stable, you'll potentially avoid cardiovascular disease and even epidemics like diabetes.
Additionally, your energy will increase in a big way.
There are, however, a few exceptions to this rule. Here are all the details on food combining for FASTER fat loss:
1. NEVER eat carbs by themselves
Remember, almost all impact carbs tend to spike blood sugar (raise insulin) more than other foods which creates a fat storing environment inside our body. In fact, it's nearly impossible to burn fat in the presence of high insulin.
So always combine your impact carbs with some type of lean protein.
2. ALWAYS have some type of high quality complete protein in every meal when possible
Consuming protein in every meal will keep your body in a consistent ―anabolic (muscle preserving) state. Protein also provides muscles with a steady stream of amino acids to help assist in repair and growth of lean muscle tissue.
This will also help keep blood sugar more stable throughout the day to keep you in a high energy – fat burning environment.
Also, the thermic effect of protein will help prevent metabolic slow down and burn more calories (in other words, your body will burn more calories digesting and breaking down protein than it will digesting and breaking down fat and carbohydrates).
So by consuming protein frequently throughout the day you'll naturally burn more calories. I also find protein helps fight off the cravings.
Another bonus side effect of being a carnivore. No offense to all my vegetarian and vegan followers out there. 😉


3. Try to limit fat intake when eating starches or fruits (impact carbs)
By keeping fat intake a little lower in meals that contain starches and/or fruits you'll avoid insulin AND fatty acids being present together in the blood stream.
Remember, insulin + fat = potential fat storage.
A good rule of thumb for combinations is:
Protein + Carbs (limit fats to under 10 grams)
Protein + Fat (limit carbs to under 10 grams)
* Always remember veggies are pretty much unlimited and under most circumstance they don't count as "impact" carbs.
There are exceptions to this rule, like our 7 Day Diet, but most of the time veggies are free foods.
4. Be conscious of fat intake after workouts
Fats tend to slow digestion and keep insulin stable. This is a great benefit during other times of the days, but post workout is the one time of the day where we want to speed up absorption and intentionally spike insulin.
This is the ONE exception to the rule of keeping blood sugar and insulin stable.
Here's why.
Spiking insulin after workouts (by limiting fats and just eating carbs and protein together) will help force more nutrients into muscle tissue because insulin is a storage hormone.
White rice, potatoes and even other all natural starches combined with fruit and protein will automatically help you achieve this desired effect.
Insulin is also very anabolic, which means it helps create a muscle building environment inside your body during exercise and it prevents the breakdown or loss of precious muscle tissue.
So if you recall what I mentioned above about Glut 4 activation and nutrient partitioning, it only makes sense to have our largest carb serving of the day in our post workout window (usually within an hour afterwards is best but it can last up to three hours).
Take home message: Always combine your post workout white starches and whole fruits with a hefty serving of lean protein and limit fat intake when possible.
There's been a lot of debate about fat in post workout meals recently…and the research points in a couple different directions.
Regardless, I still recommend keeping fats on the lower side for post workout meals because it's the only time we're intentionally "wanting" to spike insulin more and fats can tend to negate that process.
But ultimately I don't think its THAT big of deal if you have over 10 grams of fat post workout. Just be conscious of it.
I will end this subject by saying this though…fats are definitely the LEAST important post workout nutrient.
Real Nutrition Conclusion
So if you're consistently performing high intensity exercise (intervals, bursting, weight training, bodyweight circuits, etc.), go ahead and tear up those white starches.
They do the body good.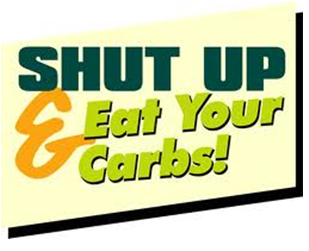 Hopefully you have a sense of humor. If not, toooooo bad. 🙂
Just make sure you follow these guidelines and you'll maintain the perfect balance of burning fat and fighting adaptation by keeping your hormones and metabolic rate in check.
Fat loss (and effective fitness) is not just about exercising more and cutting calories. It's getting your exercise and nutrition working together synergistically at the right times based on your goals.
For example, performing bursting or HIIT workouts on days when carbs and calories are lower and using strength training on days where carbs and calories are higher is going to give you more bang for your buck.
This is an approach that will help you achieve rapid fat loss and gain strength – all while preserving muscle tissue.
All this knowledge is specifically designed to help you prevent and block "fat spillover" as the summer barbeques hit.
Make sure you drop a comment and hit the "like" button for me if you got something out of today's post. And don't forget to share this with friends and family.
The fitness truth is the gift that keeps on giving!
Keep a close eye on your inbox because tomorrow I'm going to send you a FREE GIFT that puts ALLLLL this killer info from the Real Nutrition Series in one spot so you can refer to it anytime you want.
I'm even going to give you a nutrient timing and combinations chart, which shows you exactly how to tweak your food combinations based on Cardio/Interval days to burn more fat — while keeping your metabolism happy and maintaining lean calorie burning muscle on resistance training days.
You're gonna love this Free Gift.
Lastly, here are the absolute BEST resources I've found that back up this ENTIRE philosophy of this blog series on Real Nutrition and modifying the Paleolithic/Caveman type approach:
Legit Paleo Living Resources:
At the link below you'll see an awesome article from one my best buds in the fitness industry, Mike Geary. Once you read through this article, you may be surprised that many of the foods in your cabinets that you thought were "healthy foods" are actually making your fatter.
Mike is one the few people responsible for my awareness of the caveman/paleo approach and this dude knows his shizit – big time:
=> Does your kitchen contain Fat Burning foods?…OR Fat Storing foods?
Here's another legitimate resource if you're looking to apply the caveman approach. I recommend this more for people who don't exercise consistently. If you're an exerciser just add in my blog tips to these recipes and meal plans:
=> Over 370 recipes plus FREE meal plans and 3 really cool Paleo bonuses
Gluten Free Living:
=> Discover why 90% of gluten free diets FAIL (but this diet is easy)
Always remember, there's dozens of ways to skin the fat-loss cat.
The debate could go on forever about what the best plan is to get ripped. Who cares?
The best plan is one that you can actually adhere to for the long haul. All of it needs to be tested, tweaked, and refined in the real world, for you personally, anyway.
Just make sure to choose a meal frequency pattern that's most functional and sustainable for you and follow my guidelines from above.
And lastly, I always recommend you have a cheat meal/re-feed meal once or twice a week.
You can only get away with a full blown cheat day if you're already super lean, so I would limit it to one or two cheat meals per week if you're trying to aggressively burn fat.
Have a great day,
Shaun "myth buster" Hadsall
P.S. Don't miss tomorrow's email. I have a special surprise coming your way.