Today I have a really simple carb rotation strategy you can
use so that every time you eat your favorite carbs they'll
legitimately help you elevate your metabolism, reset
fat-burning hormones to lose belly fat.
Additionally, using this approach you'll be targeting and
using belly-fat as your "go-to" energy source EVERY time
you exercise…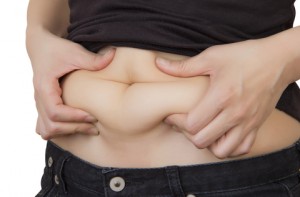 And you'll NEVER store your carbs as fat.
Boom! 🙂
Ok, here we go…
Easy Carb Rotation Method Legitimately "Targets" Belly-Fat
This is fairly simple.
Mondays, Wednesdays, and Fridays: High Carb
Exercise: Train with weights or use bodyweight exercises for 30 to 60
minutes (keep intensity high)
Nutrition: Consume one serving of a healthy starch and your favorite
fruit (with protein) 60 to 90 minutes after exercise.
Always remember, the best time to consume your favorite carbs is
post workout because your muscles are like a sponge that's been rung
dry, which means they're more metabolically active to help "soak up"
extra nutrients — especially sugars from carbs.
So this meal should contain your largest carb serving for the day.
Just make sure you have some protein with it.
Extra carb intake on these 3 days "sets up" your metabolism for
FASTER fat-loss on the other days of your week. In other words,
if you skip the carbs you'll just plateau, slow down your metabolism,
and suppress your hormones.
Tuesdays, Thursdays, and Saturdays: Low Carb
Exercise: Perform some type of high intensity intervals with 10 to 30
minutes of steady state cardio afterwards.
Nutrition: Consume ZERO starches or fruits on these 3 days. Combining
lower impact carbs WITH high intensity intervals will skyrocket catecholamine
levels (fat-burning hormones), which will increase the release of free fatty acids
to help burn more stubborn belly fat.
Just make sure you eat green veggies in EVERY meal
on these "lower-carb-deplete" days. Also increase your
servings of friendly fats and water intake.
This will help fight off cravings and increase your energy
when lowering impact carbs.
This is always my go-to fat burning protocol when life gets
hectic. The cool part of this plan is that you can move things
around based on social events or parties.
And don't forget to add in a cheat meal or cheat day at least
one day of the week…IF you've earned it.
If you're still paranoid about cheating…or you're caught in
the vicious "cheat food cycle" of 2 steps forward – 2 steps
back, week after week, check out this *free* report.
It SOLVES the problem on "how" to cheat the right way:
==> Learn how to "cheat" and eat all your favorite foods WITHOUT gaining fat
Talk soon,
Shaun