Quick & Easy Fat Burning Meals (and Mistakes)
Today I'm back with more metabolic cooking tips and a brand new recipe from my buddy, Dave Ruel.
Before you dive into this new fat burning recipe (posted below), make sure to watch the short video above and uncover the right "type" of ingredients to use…
Skim milk vs. Regular – which is better? The answer may shock you.
The most common oatmeal mistake. Something simple that makes a huge difference.
The truth about fat free, sugar free, regular, and Greek yogurts.
The absolute best time to use and consume this delicious recipe. Timing is everything when it comes to food and weight loss.
How to make sure this recipe goes directly into your muscles

instead

of your belly or butt.
One thing I forgot to mention in the video. You should always try to use organic strawberries (or any berries for that matter) because they're shown to have the higher amounts of pesticides than other fruits.
The only fruit that has more pesticides is apples. If the fruit doesn't have a protective cover (think bananas, oranges, grapefruits, etc.), try to buy organic.
Ok…here's the recipe straight from Dave's Metabolic Cooking System.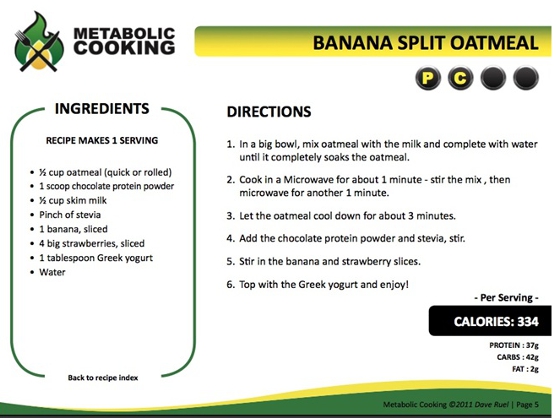 If you like today's new recipe, you can get ALL 250 of them + Dave and Karine's entire system at 52% OFF.
Triple the taste while torching the fat! <<== HALF OFF Sale
Important reminder: The price doubles on Thursday night.
Enjoy!
Shaun